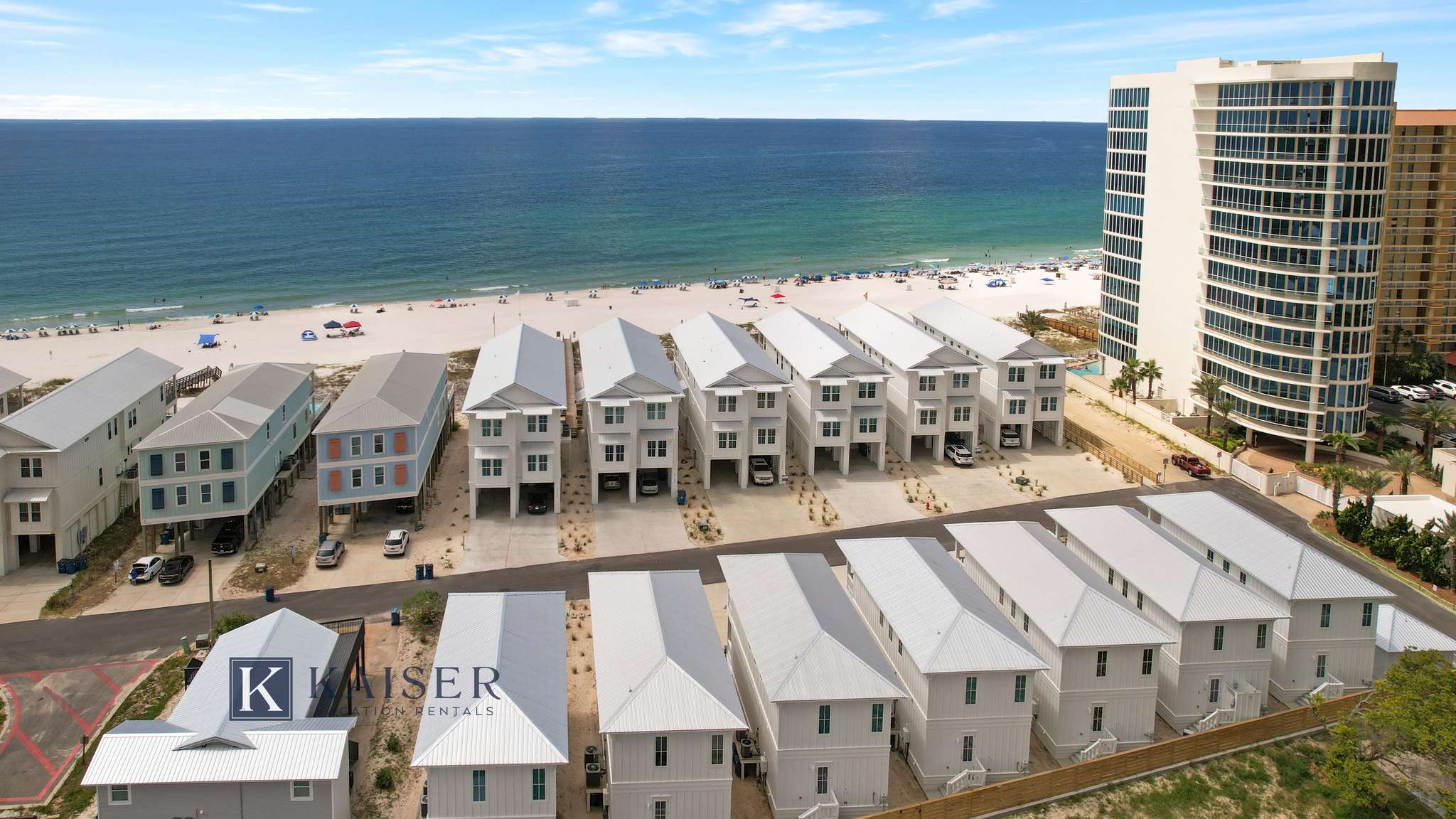 Ocean Edge in Orange Beach, AL
Ocean Edge Beach Homes
Luxury Beachfront Vacation Rentals in Orange Beach
Welcome to Ocean Edge, an idyllic Gulf-front community resting peacefully along the Alabama Gulf Coast is the perfect destination for your next getaway. Ocean Edge, located in the center of Orange Beach and nestled along 300 feet of private sugar-sand beach, offers newly-constructed, custom-built cottage style homes carefully curated with classic elegance and superior finishes.
Featuring expansive, airy rooms, en suite baths, and private, sunny areas scattered throughout, experience indoor-outdoor living at its finest. Purposefully designed open floor plans maximize space yet offer flexibility to cater to individual needs and preferences. If you're in search of the ultimate beachside retreat affording an uncompromised experience with privacy, tranquility, and refinement, find it at Ocean Edge in Orange Beach, AL.
Stunning views and coastal breezes await at this coastal community, an ideal place to indulge in your seaside vacation. Book your Ocean Edge vacation today.
Ocean Edge Property Features
Ocean Edge is a small, quiet community centrally located in Orange Beach, complete with gorgeous scenery and impressive property amenities designed to enhance your stay. Just steps from the Gulf of Mexico's emerald waters, the development offers a community pool, large sun deck, grilling area, and several open, outdoor areas to fully experience peace and solitude. Individual properties boast covered porches with plenty of seating to enjoy the great outdoors, yet conveniently situated near a varied assortment of water activities. You'll find Ocean Edge properties effortlessly cultivate environments conducive to relaxation and entertainment both onshore and on the waterways.
Ocean Edge Interior Features
Each property at Ocean Edge features open floor plans perfectly suited to the casual, coastal lifestyle. Spread out and unwind, or gather together and connect amid plush, beautiful furnishings.
Exquisitely and thoughtfully designed with natural finishes, modern appointments, stunning architecture, and polished details, Ocean Edge is truly a luxury retreat. Living areas are comfortable and cozy, with perfectly placed windows capturing water views throughout. Bedrooms and bathrooms are plentiful, kitchens loaded with professional-grade appliances and plenty of storage and counter space, and open areas seamlessly blend indoor living with outdoor entertaining. Wood flooring, custom cabinetry, and quartz countertops are just a sample of the modern luxury finishes that showcase the sophisticated craftsmanship and impeccable design throughout each property. Innovative technology automates processes, simplifies tasks, and ensures safety and comfort throughout your stay.
Ocean Edge Location
Scenic beauty enhances outdoor living in these spacious residences enriched with water-front views truly built with relaxation in mind.
Beyond the immediate vicinity, the community is conveniently located near the dining, entertainment, and nightlife districts in Orange Beach. Less than a half-mile from grocery stores, charming boutiques, and reputable restaurants, the area is popular for biking and fishing, with plenty of attractions nearby to satisfy the heartiest of recreational pursuits.
Perfect for adventurists, sunseekers, or those simply seeking a connection to nature and the environment, you'll find Ocean Edge's premier Orange Beach location convenient for any endeavor during your stay.
Ocean Edge Amenities
An extensive collection of community offerings extended to visitors of all ages makes Ocean Edge an enriching experience for those embarking on a vacation experience with us. Distinct spaces offer ideal settings for both privacy and socializing, and everything is within reach. While here, indulge in an array of property amenities:
300′ private beachfront
Private beach access
Community pool
High-speed internet
Full-sized washers/dryers
Smart home systems/devices
Outdoor showers
Electric vehicle charging stations
How to Book your Ocean Edge Vacation
We look forward to providing the best possible service for an unforgettable Ocean Edge vacation experience. Book your Ocean Edge vacation today with Kaiser Vacation Rentals.
About Kaiser Vacation Rentals
Kaiser Vacation Rentals is a professional property management company catering to vacation home rentals along Alabama's Gulf Coast. We're continually curating only the finest properties throughout Orange Beach, Gulf Shores, and Fort Morgan, so we can deliver the level of service each rental guest deserves. With a legacy dating back over 40 years, our values are rooted in honest hospitality and a service mindset with a commitment to excellence. We recognize what your time away represents and strive to provide an unsurpassed experience. We take pride in delivering exceptional service with integrity, enthusiasm, and genuine sincerity.
Partner With Us
Looking for a professional property management partner to care for your Ocean Edge vacation home? Look no further than Kaiser Vacation Rentals.