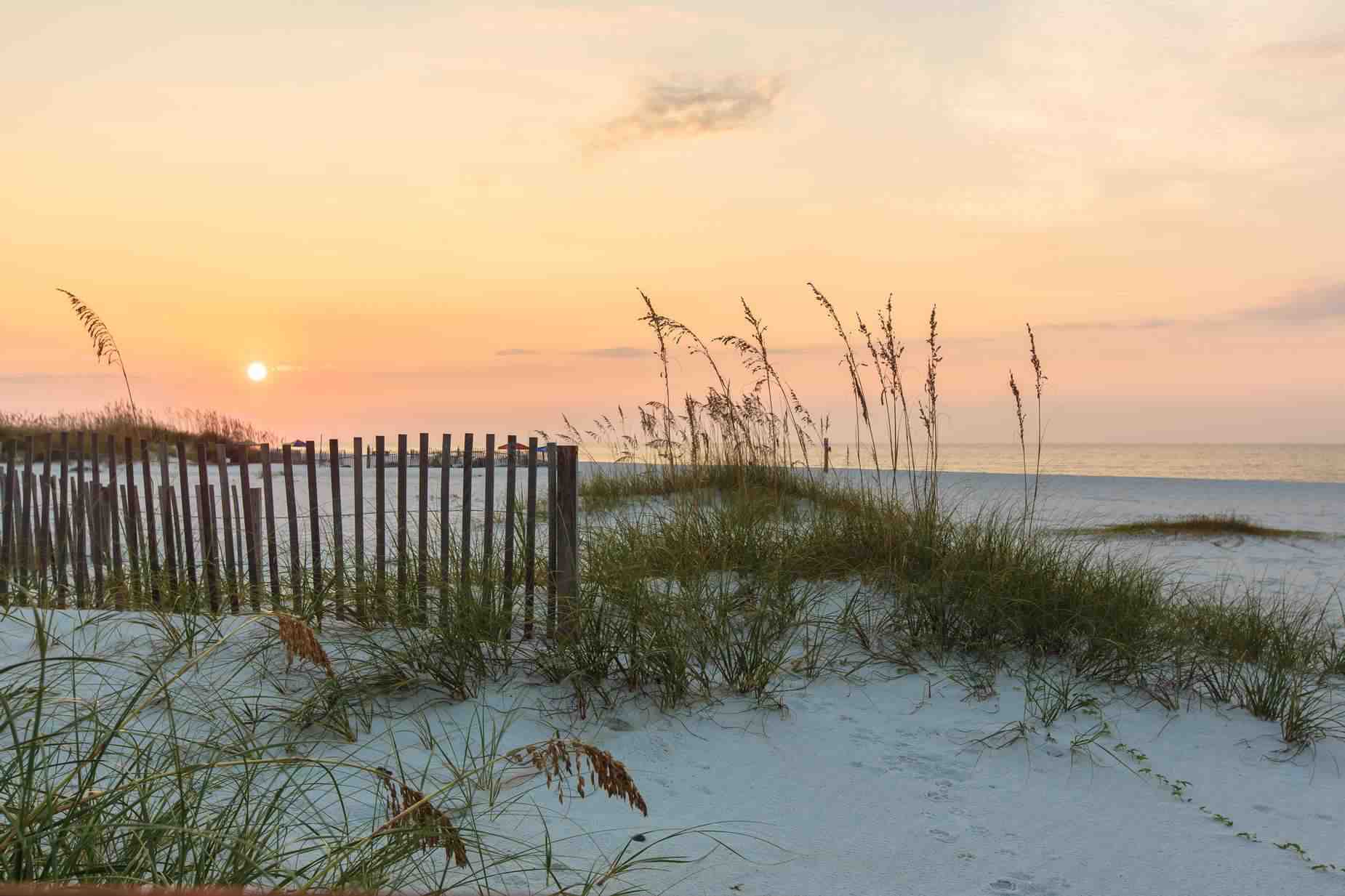 Orange Beach, Alabama
Destination: Orange Beach
Welcome to the Alabama Gulf Coast! Relax, unwind, and take in the area's 32 miles of sandy coastline extending from the Fort Morgan peninsula to the Alabama-Florida border. Here in Orange Beach, you'll find a tranquil seaside community with beautiful beaches, stunning vacation rentals, fantastic weather, and countless family-friendly activities.
When you choose Orange Beach for your next vacation, the sky's the limit when it comes to activities for the whole family. If you're here to take it easy, there's no better way to spend your days than lounging on the beach from dawn 'til dusk. But those who are more adventurous won't be disappointed, with hiking and biking nature trails, a plethora of water adventures available for all ages and skill levels, and over 20 golf courses in the surrounding area.
What's more, known as the Red Snapper Capital of the World, Orange Beach is also a favorite destination for inshore and offshore fishing. Be it the area's sun, surf, food, or people…whatever brings you to the area, you'll be glad you came. And, chances are, you'll be back!
Book your next Orange Beach vacation home today.
Where is Orange Beach?
Orange Beach is a vacation destination located on the southernmost tip of Alabama along the Northern coast of the Gulf of Mexico. Situated between the Gulf Coast State Park in Alabama and Perdido Key, Florida, Orange Beach is a popular driving destination for day trips, weekend getaways, and week-long vacations. Major airports nearby include the Pensacola International Airport and the Mobile Regional Airport, both about an hour away, lending just enough time to catch a gorgeous Alabama sunset on your way into town!
Things to do in Orange Beach
Orange Beach is known for its natural beauty, scenic coastline, and quiet, laid-back atmosphere. Beach options are plentiful, with Alabama Point East, Cotton Bayou, and Romar Beach popular destinations for locals and visitors alike.
Water Activities in Orange Beach
Beyond the beach, water activities are abundant and available through a variety of watersports outlets. Rent a pontoon boat, jet ski, or sailboat for the day, or let someone else take the helm and book a dolphin, marine life, or sunset tour! For those more adventurous, explore the area's waterways via paddleboard, kayak, or canoe, or canvas the terrain by air via parasailing, skydiving, or in a helicopter.
Gulf State Park
Pack a picnic and head to Gulf State Park in the neighboring Gulf Shores, a public recreation area encompassing over 6,000 acres and filled with diverse habitats, thriving ecosystems, and an array of flora and fauna native to the area. Once on-site, head to the pier for fishing, swim or boat in Lake Shelby, and don't miss the Backcountry Trail, a 28-mile paved trail system, both ADA compliant and ideal for hikers, bikers, and Segway tours.
Family-Friendly Activities in Orange Beach
Beyond the beach, the Alabama Gulf Coast offers a wide variety of family-friendly activities for kids of all ages. With several amusement parks and entertainment districts throughout the surrounding area, plus the Alabama Gulf Coast Zoo, when it comes to family-friendly activities in Orange Beach the options are many.
The Wharf at Orange Beach
Spend the day at The Wharf, an entertainment center with shopping, dining, and activities for the whole family. While you're there, ride the Southeast's biggest ferris wheel, enjoy an evening laser light show, or partake in Alabama's longest zipline course.
OWA Amusement Park & Entertainment Destination
Located up the road in Foley, AL, you'll find yourself at OWA–the largest amusement park in Alabama. Complete with roller coasters, kiddie rides, firework displays, and a splash pad, a day at OWA is always well spent.
Book your next Orange Beach vacation home today.
Where to Eat in Orange Beach
Food in the South isn't just one cuisine, it's a melting pot of flavors, traditions, and cultures. When it comes to Orange Beach cuisine we take it one step further, by creating unique environments in which it's consumed. Orange Beach is packed with countless family-friendly restaurants serving up fresh catches and unique menus with killer views, fun atmospheres, and casual vibes.
Here's a round-up of local's favorites for breakfast, lunch, dinner, and drinks throughout Orange Beach and the surrounding area.
Plan your culinary adventure and choose from over 100 restaurants in Orange Beach and Gulf Shores at GulfShores.com.
Orange Beach Events
When in doubt, plan your Orange Beach vacation around one of the many festivals, events, and concerts throughout the year in the Orange Beach area. The Gulf Coast Hot Air Balloon Festival is not to miss, featuring more than 40 hot air balloons flying at dawn and dusk daily. Or, if you're here for the seafood, why not travel during the Annual National Shrimp Festival, a lively celebration of music, art, and all things shrimp. If music is your thing, check out the impressive list of headliners at The Wharf Amphitheater, ranging from rock and roll to country music and other genres.
Whether it's the Orange Beach Billfish Classic, a marlin tournament attracting competitive fisherman, or the NCAA Beach Volleyball Championship, featuring the country's best beach volleyball teams, there's always something happening in Orange Beach!
Book your next Orange Beach vacation home today.
Orange Beach Weather
The Alabama Gulf Coast's mild climate is perfect for land and water activities year-round. Days are typically bright and sunny with an average summer temperature of 82°. Winter brings fewer crowds and cools off a bit with temperatures dipping down into the 50's. Water conditions range from 55° in January to 85° at its peak in August.
The moderate climate, friendly natives, and family-friendly environment are just a few of the reasons we love Orange Beach. We can't wait to share it with you!
Latest Orange Beach and Gulf Shores Blog Posts
From the Gulf Shores & Orange Beach Blog