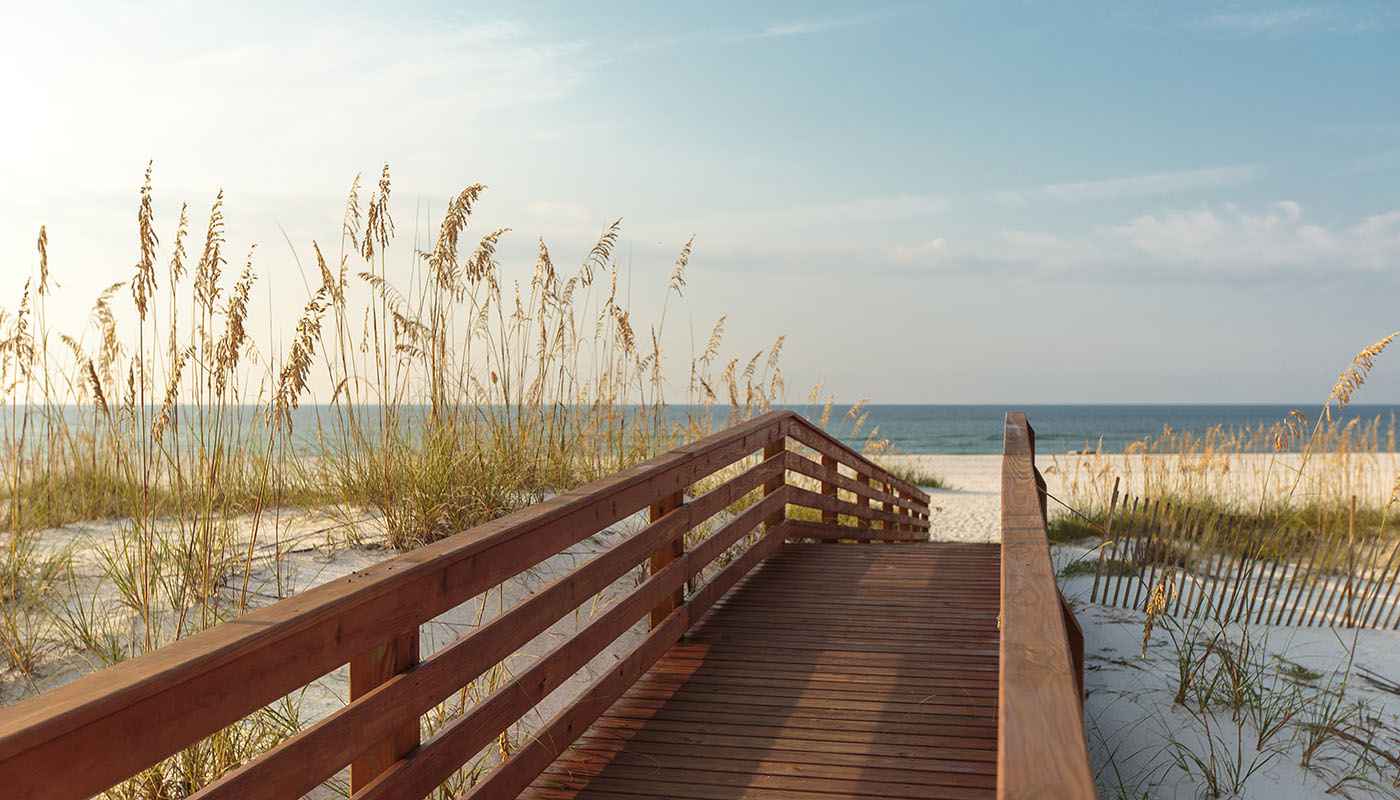 Gulf Shores, Alabama
Destination: Gulf Shores
Welcome to Gulf Shores and the Alabama Gulf Coast! Here in Gulf Shores, home of Kaiser Vacation Rentals, you'll find the people friendlier, the food better, and the sunshine just a little bit brighter… but don't take our word for it. Consistently ranked at the top in "Top 10 in Best Coastal Small Towns" and "America's 25 Favorite Beach Towns," your only question will be, why didn't we come sooner?
Lounge on the beach, explore the area's hiking and biking nature trails, charter a fishing trip or book a watersport excursion, and discover an endless array of shopping and dining establishments in the area. Whether you're planning a family vacation, reunion, or a private retreat, you'll find Gulf Shores a memorable destination brimming with genuine Southern hospitality.
Book your next Gulf Shores vacation home today.
Where is Gulf Shores?
Gulf Shores is located on the southernmost tip of Alabama along the northern coast of the Gulf of Mexico. Nestled between Fort Morgan and Orange Beach, Gulf Shores boasts miles of sugar-soft sand beaches and countless beach access points. Though Gulf Shores attracts millions of visitors annually, the area retains its small-town atmosphere, charm, and Southern roots.
Gulf Shores is driving distance from many Southern states via the I-65 and I-10 corridors. But getting to Gulf Shores just keeps getting easier, with Pensacola International Airport and Mobile Regional Airport about an hour drive to the beach.
Things to do in Gulf Shores
Plan your vacation around a signature event or select a sea or land adventure from a vibrant and varied list served up daily. Once your Gulf Shores vacation is booked, the most difficult decision you'll make is what to do first! No matter the age of those in your group or the number in your party, you'll find accessible and enjoyable activities for everyone.
Water Activities
The main attraction of any Gulf Shores vacation is the beach, with three major public beach accesses: Gulf Shores Public Beach, Gulf State Park Pavilion Beach, and Little Lagoon Pass. Spend days sunbathing, swimming, or just relaxing along the shores of the Gulf of Mexico. Rent a kayak or wave runner and explore the native habitat or maybe a sunset, dinner, or dolphin-watching cruise is more your speed.
Book your next Gulf Shores vacation home today.
Family-Friendly Activities in Gulf Shores
In addition to the beach, Gulf Shores is packed with family-friendly attractions and activities. Get in a round at one of eight golf courses in Gulf Shores with six public, two private, and two municipal courses. Pirate's Island Adventure Golf is another option should your skill level not be up to par. Beyond golf, you'll find new adventures happening every day in Gulf Shores with lots of fun things to choose from.
Gulf Coast Zoo
Offering up over 100 different species and 50 primates to observe, the whole family will enjoy the Gulf Coast Zoo with an animal encounters program featuring interactive experiences.
Waterville USA
Get ready for a day of fun at Waterville USA, a 20-acre water and amusement park the whole family will enjoy featuring 17 water slides, go-kart racing, and the Flowrider, an endless wave for riders to experience surfing and bodyboarding in a simulated environment.
Alabama Gulf State Park Pier
Anglers and novice fishermen can cast a line for pompano or red snapper at the Alabama Gulf State Park Pier, the longest fishing pier in the Gulf of Mexico.
OWA Amusement Park & Entertainment Destination
Located in nearby Foley, AL, spend the day at OWA–the largest amusement park in Alabama. A day at OWA is always well spent, with many attractions including roller coasters, kiddie rides, firework displays, and a splash pad.
Where to Eat in Gulf Shores
Dining in the south is a whole different experience given the locally sourced ingredients, cajun influence, and down-home traditions that run deep. In the South, we recognize it's not just about the meal, it's about the way it makes you feel. We work hard to put comfort in food whenever and wherever possible. Regional and cultural history molds southern cuisine, with flavors varying from region to region. Gulf Shores is no different with countless local favorites.
Gulf Shores Events
In the Gulf Shores, we do things big. And festivals, events, and concerts are no exception. If you're looking for a reason to get to the beach and have some fun, look no further than Gulf Shores, Alabama.
Spring Events
Don't miss the Interstate Mullet Toss and Gulf Coast's Greatest Beach Party, a weekend of fun activities, local food, and music held at the renowned Flora-Bama Lounge & Oyster Bar, or the annual NCAA Beach Volleyball Championship (through 2024). Up next is The Hangout Music Festival (returning in May 2022) is an annual three-day beach party that takes place in May featuring live music, beach volleyball, southern cuisine, and DJ's that really know how to get the party started. Gulf Coast Hot Air Balloon Festival, also in May, is a multi-day event with balloon rides, live music, and more than 40 hot air balloons flying at dawn and dusk each day.
Fall Events
The Annual National Shrimp Festival has been a tradition for nearly 50 years in these parts. Each fall over 250,000 people gather to enjoy music, art, and all things shrimp with local restaurants competing for bragging rights in a friendly shrimp-based cooking competition.
Year-Round Events
If live music is your jam, the Amphitheater at the Wharf is a popular concert venue with an impressive list of headliners featuring rock and roll, country music, and other genres. But wait, there's more! The Gulf Shores Event Calendar is an incredible resource for staying up to date on the latest events and concerts in the Gulf Shores area.
Book your next Gulf Shores vacation home today.
Gulf Shores Weather
The Alabama Gulf Coast is known for mild temperatures year-round, cooling off a bit in the spring and winter. The average temperature ranges from 50° in the winter to 82° in the summer, the latter being the most popular season. Gulf Shores welcomes an influx of snowbirds annually, with 10,000 arriving each winter embracing a break from winter temperatures and heavy precipitation back home.
Balmy breezes, endless water play, and gorgeous sunsets bring people from all over to our beachside community. No matter when you come or why you're here, you're in good company in Gulf Shores and we're happy to have you!
Latest Gulf Shores and Orange Beach Blog Posts