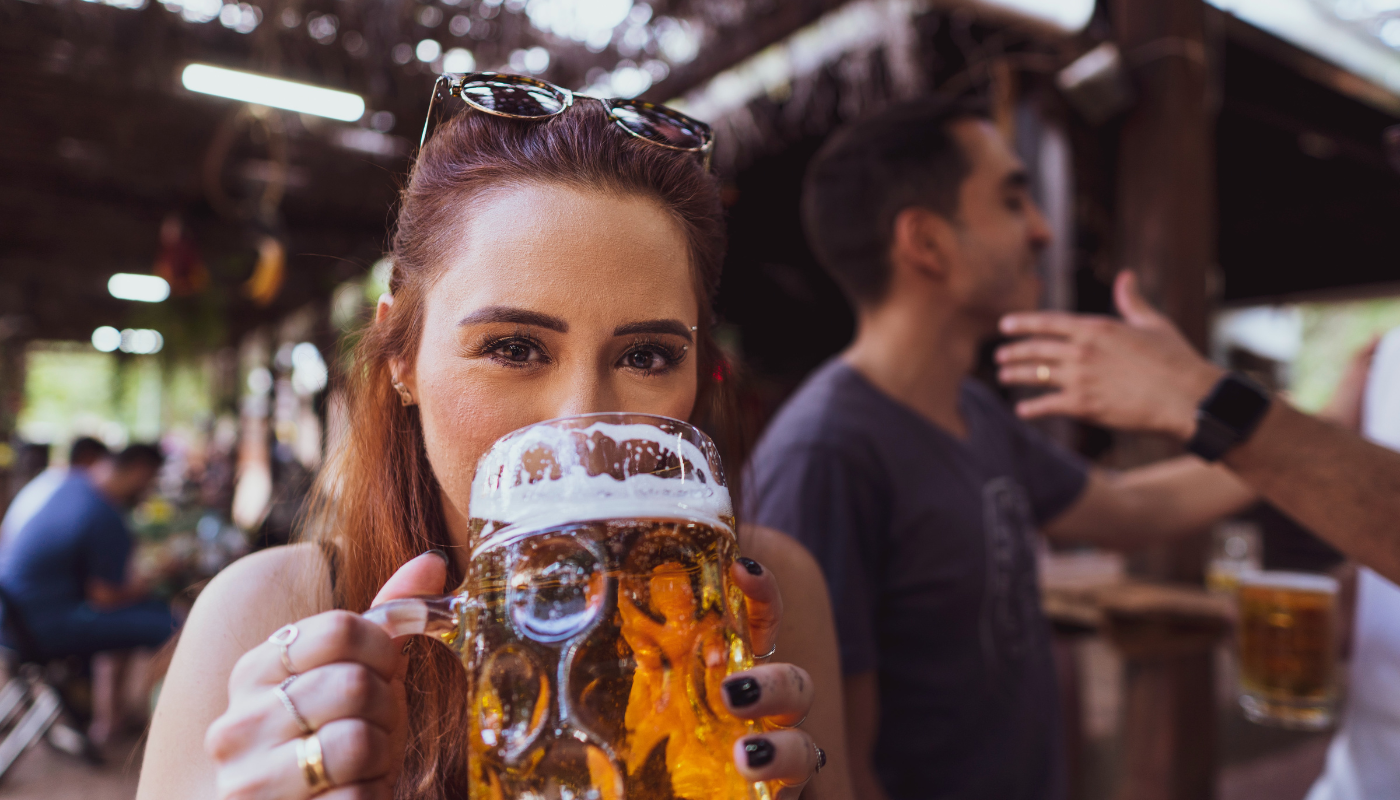 Fall and Winter Events Round Up
October 14, 2022
The blazing summer days are behind us, and fall is in the air. For us on the Alabama coast, that means the same gorgeous waters of the Gulf of Mexico and sparkling sand with more mild temperatures. Joining us for a vacation this fall or winter? Between firing up the grill for the Bama-Q and countless holiday activities such as A Very Merry Coastal Grinchmas, we have you covered on things to do beyond days soaking up the sun on the beach.
Here are a few events we definitely recommend checking out.
Annual Jubilee Festival of Arts – October
Head north to Olde Towne Daphne, AL, on October 15 & 16, 2022, to experience art, music, and local cuisine at the Annual Jubilee Festival set along the Eastern Shore of Mobile Bay. Find the best in jewelry, paintings, pottery, sculpture, wood, mixed media, and more. Olde Towne Daphne's picturesque bay views are an inspiration to artists from across the country.
Luna's Annual Oktoberfest – October
Spend a day enjoying great German food, modern polka music by The Brats, stein hoisting, games, and lots of Oktoberfest-style beers at Luna's Eat and Drink in Orange Beach. Tickets are $12 per person and include a beer glass and a koozie to keep your beer cool at Oktoberfest and beyond. This is a 21+ only event.
Fort Morgan After Dark Ghost Investigation & Haunted Tour – October
Join the Second Sight Paranormal TV members for a ghost and paranormal investigation at Fort Morgan, one of Alabama's most haunted places. They will provide ghost-hunting equipment, but feel free to bring your own audio equipment and/or digital cameras. Reservations Required! Fort Morgan is one of Alabama's true hidden gems, and this tour is a perfect way to experience the history of one of Alabama's most iconic attractions. Before nightfall, you can find more to explore in Fort Morgan here.
Halloween at OWA – October
Candy, costume contests and more await you this Halloween season at OWA in Foley! Every Saturday and Sunday beginning October 8, experience the transformation of Downtown OWA into Foley's own Halloweentown! With trick-or-treating available every weekend, plus activities and a fountain show, this event will have you howling for more!
Frank Brown International Songwriters' Festival – November
The 38th annual Frank Brown International Songwriters' Festival will feature nationally acclaimed songwriters in venues along the Florida/Alabama Gulf Coast from November 3rd – 13th, 2022. The festival is an opportunity for seasoned and aspiring songwriters and musicians from all over the world to have their songs heard, and for the public to learn the stories behind the lyrics that only the song's author can express. Find the full schedule of events here.
Sandcastle Showdown 2022 – November
Held at Flora-Bama Lounge and Package, The Sandcastle Showdown calls on local businesses to compete in a fun and friendly competition to vie for a year's worth of bragging rights, trophy and custom sand sculpture created by Sandcastle University. Make the trip to Perdido Key to watch the building in action on November 5th.
Holly Days on Main at The Wharf – December
When it comes to Christmas, we do it right in paradise! Head to The Wharf in Orange Beach for two days filled with tons of fun to get you in the Christmas spirit including retail vendors, music, Santa Pub Crawl, pass by of the LuLu's Lighted Boat Parade, and more! Get all the details here.
Flora-Bama's Annual Santa Drop – December
On December 10th, see Santa skydive onto our white sandy beaches behind Flora-Bama Lounge & Oyster Bar, then jump in line for pics! Beginning at 11:00, before Santa's arrival at noon, you'll find kids' crafts, games, live music featuring holiday tunes for the kiddos, face painting, juice, and sweet treats. It's sure to be an experience you'll never forget.
Noon Year's Eve at LuLu's – December
Crafts, kid-safe fireworks (bubble wrap) and a Sand Castle Building Contest are only the tip of the iceberg. When the clock strikes noon there will be a beach ball drop! Hundreds of colorful beach balls will flood LuLu's Beach. The excitement doesn't stop there, though! Face painting, balloon animals, an inflatable slide, and even more will be at LuLu's Noon Year's Eve to start your New Year's celebration off right.
Reelin' in the New Year at The Wharf – December
Say goodbye to 2022 in the grandest style with live bands, family-friendly activities, and adult-centered fun all rounding off at midnight with The Park Band, The Marlin Drop, and a fireworks finale! There's something for everyone at this end-of-year celebration at The Wharf Orange Beach.
Gumbo & Alabama Slammer Festival – January 2023
Enjoy food vendors with tasty gumbo dishes, craft beer from Fairhope Brewing Company, scrumptious snack vendors, and great live music all day at Heritage Park in Foley, AL on January 28th. Unique vendors and a large kids entertainment guarantees fun for the whole family. Check out all there is to do here.
Super Chili Bowl Cookoff – February 2023
Come one, come all! Everyone is invited to the Super Chili Bowl Cookoff to enjoy delicious chili variations while supporting a wonderful cause on February 11th. All proceeds raised will be donated to the American Cancer Society. The tent opens at 10:00 AM at Flora-Bama Lounge & Oyster Bar, and samples and judging will begin at noon. Admission is $20 per person.
Greater Mobile Area Mardi Gras Parades – February 2023
Join the Carnival Celebration! Be a part of the historical celebration that has been in Mobile since 1703. Over 40 parades roll through downtown Mobile (and across the area) beginning January 2023. Bonus: Many downtown parades can be caught multiple times. Mardi Gras Day (Fat Tuesday) is February 21, 2023 …But every day is Mardi Gras here! We always find a way to celebrate, and many locals have transformed their front yards into Mardi Gras Floats to participate in the Mobile Porch Parade! See the full list of parades, locations, and info here.
Don't worry; there are even more events to check out!
Visiting us during Thanksgiving or Christmas? There's a Potluck at Florabama Lounge & Oyster Bar every year for locals and visitors alike. Coming for new years celebrations? Take a dip in the gulf on January 1st to start 2023 off with a unique experience. Just want to experience Orange Beach and Gulf Shores to the fullest? Visit our guide for 7 Ways to Explore the Beach. There you'll find our recommendations for paddle-boarding excursions, fishing trips, and more. We hope to see you there!
Vacation Email Sign Up
---
Related Topics
electric vehicle charging stations Gulf Shores Orange Beach Property Management United Way