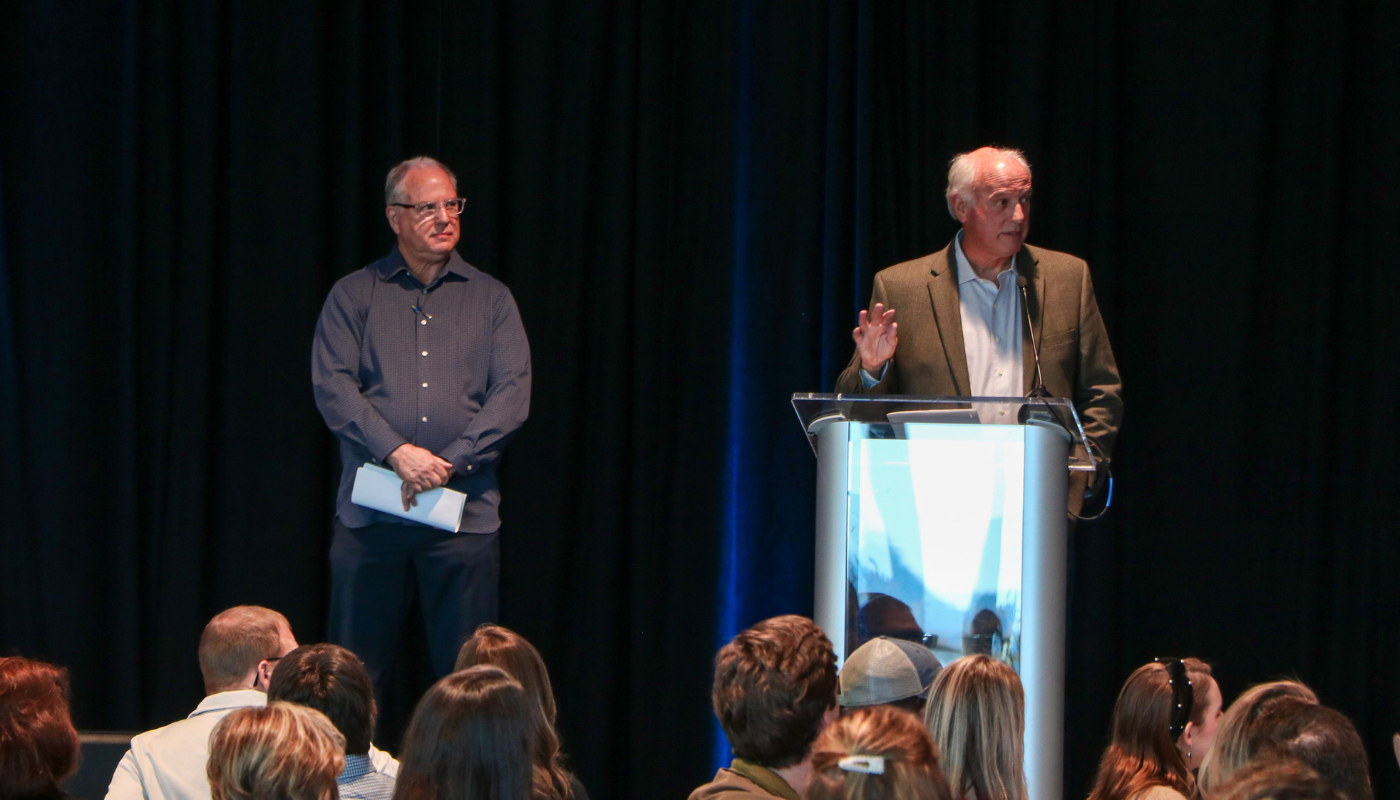 Chamber First Friday Forum
February 12, 2023
January kicked off the first edition of the First Friday Forum at the Coastal Alabama Business Chamber. Held in Gulf Shores and Orange Beach throughout the year, the First Friday Forum is a monthly meeting open to Coastal Alabama Business Chamber members. Featuring breakfast, a guest speaker, a featured non-profit, and important Chamber updates, the Forum brings local professionals together to network, socialize, and build business connections along the Alabama Gulf Coast.
The event saw Glen Kaiser of Kaiser Vacation Rentals and Leonard Kaiser of Kaiser Sotheby's International Realty teaming up as sponsors to present the South Baldwin Literacy Council. A record-setting crowd of over 230 attendees joined at The Lodge at Gulf State Park for a jam-packed agenda. The event kicked off with chamber updates, an invocation, and a welcome from Lodge Director of Sales & Marketing, Dan Keyser. The morning then launched into gear with a few words from the Kaiser brothers, who provided insight into their history in the area, company growth, and a look back at 2022 statistics.
The morning's guest speaker, Mitchell Lee, Executive Director of the South Baldwin Literacy Council, then lent insight into the Literacy Council and its services to the community. In a touching speech, Lee shared a letter written by one of his former students entitled "Pain." The impactful note revealed a story about overcoming immense pain endured throughout life because he never learned to read until joining the South Baldwin Literacy Council.
Overcoming obstacles is what the South Baldwin Literacy Council is all about.
Founded in 1983, the volunteer-based non-profit located in Foley, Alabama, has been working hard to improve the lives of Baldwin County residents. Providing educational services to those with learning needs in South Baldwin County, the Council offers a heavy schedule of events, including youth educational programs, adult education classes, ESL classes, and a GED program. Comprised of a Board of Directors, a handful of staff members, and a vast network of committed volunteers, all work together to enhance students' lives in the community. The task is no easy feat. The Council provided services to over 800 students in 2022, so spreading the word at community events like these is helpful to get the word out and recruit volunteers.
"I thought the event was a home run all around. In the time that has passed, we've received many compliments. It's certainly built a lot of momentum for us, and in the five or so events we've held this year, we've seen a noticeable increase in attendance. I think we're in store for a great 2023, said Ryan Moberly, Chamber Communications Director."
Originating over 25 years ago, the Forum has become a signature event, reflecting the Chamber's rapid growth of 40 new members in the past two months. With several keynote speakers already slated for upcoming events, members will have plenty to look forward to this year.
Read more about how the Coastal Alabama Business Chamber promotes business and community along the Alabama Gulf Coast and reference their events calendar for future engagements.
---
Related Topics
electric vehicle charging stations Gulf Shores Orange Beach Property Management United Way