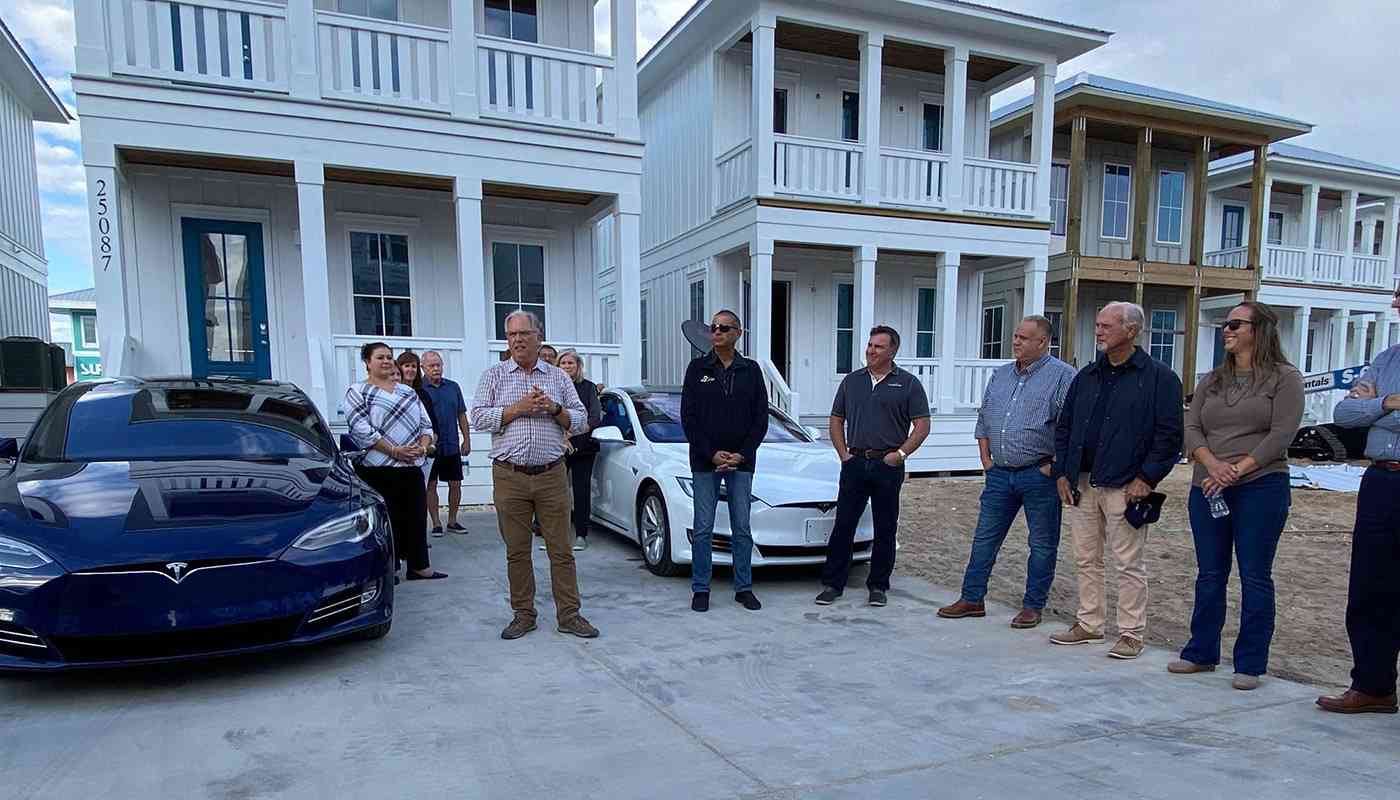 Kaiser Vacation Rentals Introduces Ocean Edge with EV Technology
November 15, 2021
ORANGE BEACH, AL – The first EV (Electric Vehicle) equipped residential/vacation community on the Gulf Coast, OCEAN EDGE, was unveiled recently at a ribbon-cutting ceremony in Orange Beach, Alabama. The project developer, David Lee, introduced the residential community in collaboration with Kaiser Vacation Rentals, Kaiser Sotheby's International Realty, OK2Charge, and BeHome247.
OCEAN EDGE is a Gulf-front 14 home community at Romar Vista Place featuring 3- and 8-bedroom homes, all with EV charging stations. Erin Kaiser, the listing and marketing agent with Kaiser Sotheby's International Realty worked with Mr. Lee through the project's development and sponsored the EV charging stations for each home at no additional cost to the buyers at OCEAN EDGE. "This is the first of its kind on the Gulf Coast, and we are truly excited to be able to offer this cutting edge service to the homeowners and to the vacation rental guests," said Kaiser. Every home is either sold and closed or under contract, with the last home slated for completion by mid-2022.
OK2Charge and BeHome247 developed the first software application that will monitor and facilitate the EV charger systems for vacation rentals. This service offers owners and guests the convenience and peace of mind they enjoy at the home of charging electric vehicles without leaving the property. Glen Kaiser, with Kaiser Vacation Rentals and Kaiser Sotheby's International Realty said, "By helping to bring this idea to reality, we think it is a perfect reflection of our commitment to offer innovative solutions and services to our clients and customers in both real estate sales and vacation rentals."
The ribbon-cutting event was sponsored by the Alabama Coastal Business Chamber. Kaiser Vacations Rentals was also presented with a proclamation designating Thursday, November 11, 2021, as Kaiser Vacation Rentals Day.
Contact Kaiser Vacation Rentals today to learn more about what our professional management team can do for your luxury rental.
---
Related Topics
electric vehicle charging stations Gulf Shores Orange Beach Property Management United Way