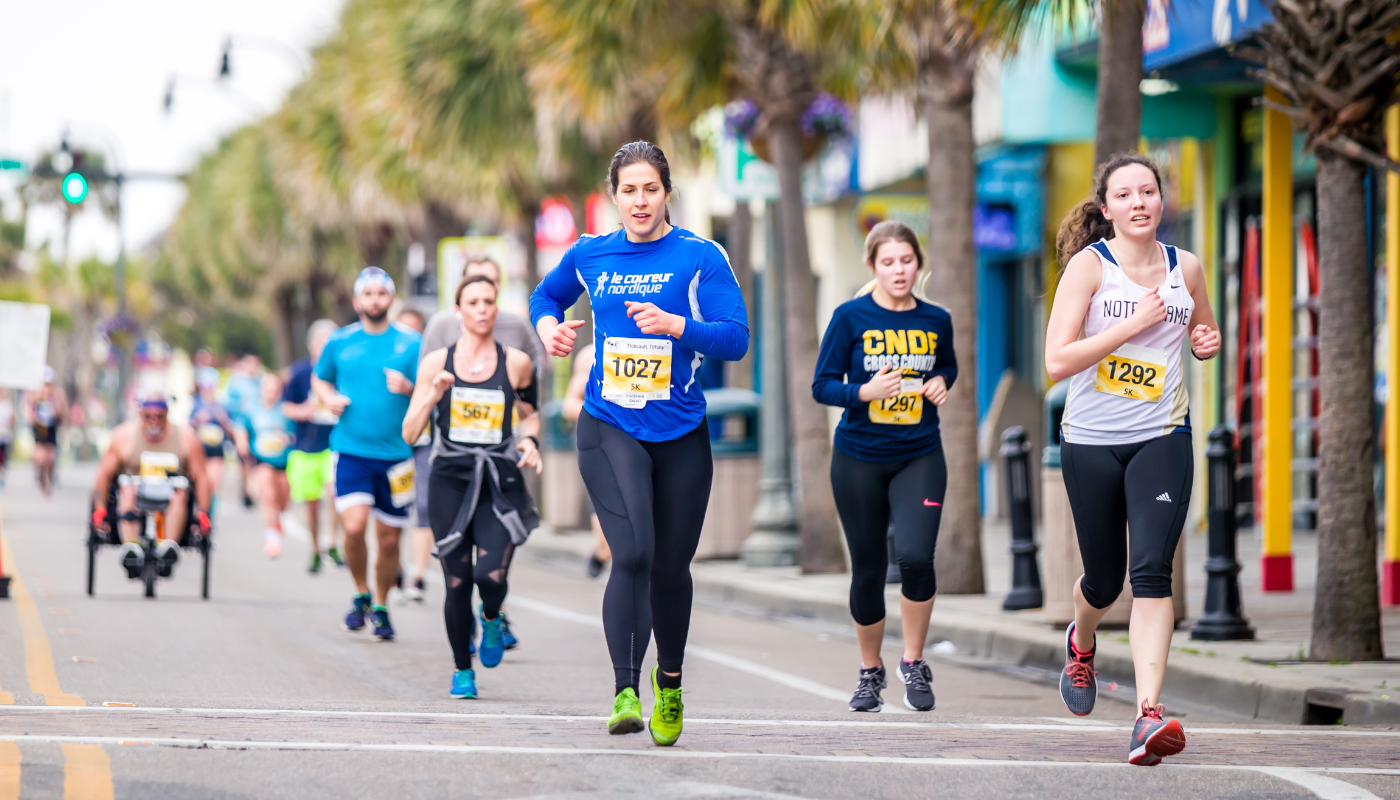 Your 2023 Spring and Summer Event Guide
December 16, 2022
It might still be chilly in your little corner of the world, but the Alabama Coast is delightfully pleasant. When spring approaches, Gulf Shores and Orange Beach will blossom with renewed energy and a flurry of activity as travelers make their way to the Alabama Coast. The longer daylight hours that follow are a sure sign that summer's not far behind. With the change of seasons on the horizon, we couldn't be more excited for a bit of beach time, some fresh seafood, and plenty of outdoor fun.
Maybe now's a good time to share some of our favorite festivals and happenings so you can plan accordingly. Whether that means jumping in the car the day of the event or locking in your luxury accommodations today, by all means, you do you. We're just happy to share a stellar lineup of 2023 spring and summer events you won't want to miss along the Alabama Coast!
Spring and Summer Events on the Horizon
The Wharf Boat and Yacht Show – March
With over $100 million in boats and products on display, The Wharf Boat and Yacht Show is a must-see, even if you're only window shopping. Considered the top buying showing in the northern Gulf, you'll find more than exhibitor displays, instructional seminars, and live music. With 80 wet slip boats and yachts to check out and more than 300 sport and console boats to view on land, new boat owners and seasoned veterans alike will delight in this wildly popular Orange Beach event. Take advantage of the restaurants, shops, and kid-friendly activities at The Wharf while there!
Orange Beach Festival of Art – March
Art lovers will rejoice as over 100 artists display their wares at the Orange Beach Festival of Art, a beloved Orange Beach event. Ranked #25 nationally for the top 100 fine art and design shows, this lively event continues to bring locals and visitors in droves. The Orange Beach Waterfront plays host for a celebratory two days showcasing an array of visual arts. Swing by and join in the fun as artisans share their photography, mixed media, jewelry, and sculptures. A kid's art alley, live music, and food vendors round out a truly spectacular event!
The Ballyhoo Festival – March
Featuring juried fine art from over 100 artists, The Ballyhoo Festival showcases more than just artwork. With a focus on cultural exchange, the festival celebrates music, food, and community, with the Gulf State Park in Gulf Shores serving as a stunning backdrop. Festival highlights include a tribal dance performance, art demonstrations, live music, and a festive fiddle and banjo competition!
Flora-Bama Mullet Man Triathlon – April
If you start now, you'll have plenty of time to train for the Flora-Bama Mullet Man Triathlon, a rain-or-shine event that's been going strong for over two decades. First-time triathletes are welcome while returning participants are encouraged to come out and beat their PR. Wet suits are optional as the race commences with a quarter-mile swim in the Ole River. Transitioning onto bikes (helmets required) at the Flora-Bama Old River Grill, participants will traverse the 16.5-mile out-and-back course taking in the gorgeous scenery along the way. The race culminates in a 3.9-mile run into Alabama, ending at Flora-Bama, where you can share your adventure stories at the post-race celebration.
Waterway Village Zydeco & Crawfish Festival – April
Enjoy mouthwatering crawfish served alongside the sounds of zydeco at the Waterway Village Zydeco & Crawfish Festival in Gulf Shores. Work up an appetite at the 5K or 1-Mile Fun Run, a quick, flat course every family member will enjoy. Enjoy lively entertainment, and browse through the arts and crafts booths while the kids take their pick from an array of children's activities. Don't miss the local pageant and crowning of the Little Miss Zydeco queens at this fun-filled two-day event.
Flora-Bama Mullet Toss – April
Perdido Key is home to the world-famous Flora-Bama Mullet Toss, a legendary event in these parts. Contestants toss a mullet, that's right, a fish, from Florida across the state line to Alabama to see who can throw it the farthest. Beyond earning bragging rights, winners will receive awards in various categories, and all who enter will receive a commemorative T-shirt. Even if you don't intend to participate, it's a fabulous time on the beach with great food, music, and fun activities. Although you can't bring in coolers or alcohol, you'll find plenty of places to grab a refreshing beverage. Plan ahead and book early for this one, as accommodations fill up quickly.
Bama Coast Cruisin' – April
Cruising the Alabama Coast takes on new meaning at Bama Coast Cruisin', an annual car show held at The Wharf in Orange Beach. View everything from vintage and classic vehicles to custom and newer models, all set against the gorgeous backdrop of the Inter-Coastal Waterway. This free, three-day event always promises a good time with music, vendors, door prizes, cash giveaways, and a swap meet. You won't want to miss the three nights of parties and a parade through Orange Beach showcasing these beautiful automobiles.
Gulf Coast Hot Air Balloon Festival – May
Named 2021 Event of the Year by the Alabama Tourism Department, The Gulf Coast Hot Air Balloon Festival at OWA is a fantastic way to enjoy the spring weather. Admission is free for this three-day event showcasing 40 hot air balloons flying from dawn to dusk, wind and weather permitting. Swing by for the balloon glow kick-off event, explore the booths, and purchase tickets for tethered rides to take in the view from above. With OWA's themed attractions, shops, and eateries thrown in the mix, we're pretty sure you'll never be bored.
The Hangout Music Festival – May
If top headliners performing on the beach, dance parties, and roller disco sound appealing, check out The Hangout Music Festival, an exciting three-day beach party in Gulf Shores. A stellar musical lineup features everything from hip-hop to rock to indie and everything in between. Although the lineup changes annually, it never disappoints, a few notable past headliners include the Zac Brown Band, Post Malone, Halsey, and Leon Bridges. Play some volleyball, hang on the beach all day, and take in the chill vibe alongside thousands of others who return annually for this musical extravaganza.
Lulu's Hot Trot – June
Take in stunning scenery at Lulu's Hot Trot, a flat, certified 5K Run/Walk in Gulf Shores. A bit of a challenge, a good time, and a T-shirt aren't the only rewards. Join in the fun afterward for a celebratory party with food, beverages, music, and awards presented in numerous categories. Of course, you can always refuel with a delicious meal or a refreshing post-race cocktail at Lulu's. Island Mango Colada, Mudslide, or Bushwhacker, anyone?
Blue Angels Pensacola Beach Air Show- July
The U.S. Navy's flight demonstration squadron stationed at Naval Air Station Pensacola hits the sky to present their annual Blue Angels Air Show for thousands of spectators every summer. You won't need much more than a cooler, your favorite hat and shades, and a comfortable chair to take in the incredible show. Slather on the sunscreen, settle in, and watch the mind-blowing aerial maneuvers as pilots take to the skies over Pensacola beach. Be forewarned; show day can be crowded, so read up on event day tips to make your trip as enjoyable as possible. Want to skip the crowds? Catch them the week before the event as they practice along the beach!
Stay Tuned for More Gulf Shores and Orange Beach Events
Whether attending the NCAA Women's Beach Volleyball Championship, enjoying the shows at The Wharf, or watching fireworks during the Independence Day Celebration, you'll find spring and summer packed with fun events along the Alabama Coast!
Want to stay in the know? Sign up to receive information about upcoming events, travel trips, and itineraries in Gulf Shores and Orange Beach all year long!
Vacation Email Sign Up
---
Related Topics
electric vehicle charging stations Gulf Shores Orange Beach Property Management United Way