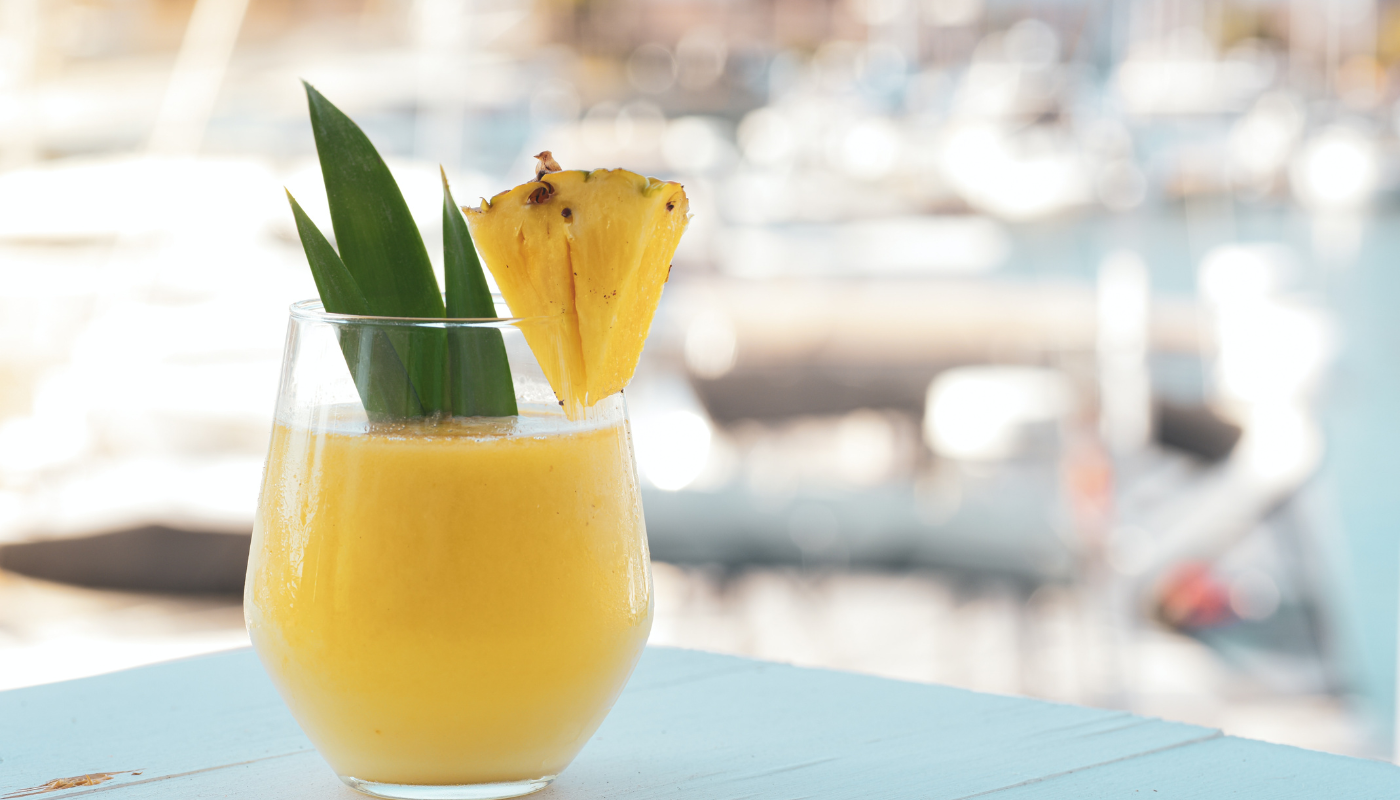 Our Favorite Beach Cocktails (And Where to Get Them)
July 1, 2022
It's summertime and the sipping is easy in Gulf Shores and Orange Beach. Soaking up the rays while you lay on the beach is tough work, so reward yourself with a chilled beverage poolside, at a happy hour, or simply sitting on your balcony watching the sunset. Whether you fancy a frozen concoction or a classic ice-cold beer, you'll find your glass is always half full when you're enjoying a drink on a beach vacation. Here's a list of eight of our favorite summer drinks and where you can easily find them in Gulf Shores and Orange Beach.
And as always, drink responsibly!
Gulf Shores and Orange Beach's Best Beach Cocktails
Mojito – The Gulf
Mix a generous amount of rum with simple syrup, soda water, and muddled mint (we wouldn't mind some fresh berries in there, too), and you've got a light and refreshing summer beverage in the mojito. The iconic Cuban cocktail will have you ordering them back-to-back with a balanced flavor. At The Gulf in Orange Beach, you can enjoy a twist on the classic with coconut and seasonal berry-flavored mojitos. There's a reason it's their #1 selling cocktail year after year. Order yours and kick back on the restaurant's sandy shore overlooking the Perdido Pass.
Bushwacker – Flora-Bama
You can't visit Gulf Shores and Orange Beach without stopping at the infamous Flora-Bama Lounge, Package and Oyster Bar. Situated on the Alabama-Florida state line, the bar is known for having live music every day of the year, its annual mullet toss, and the Bushwacker cocktail. The often imitated but never truly duplicated cocktail is essentially a milkshake for adults. A unique blend of coconut and creamy flavors gives the drink a nutty and tropical flavor that's hard to resist. They're not world-famous for nothing!
Margarita – Margarita Loca
One tequila, two tequila, three tequila, more! If margaritas and queso are your jam, then head to Margarita Loca Mex Bar & Grill to get your fill. Every Wednesday and Friday, the restaurant hosts karaoke for dinner and a show with margarita specials, including a tasty watermelon margarita. Margarita Loca's daily happy hour includes their Mid Margarita for only $3 from 2:00 p.m. to 6:00 p.m. If a Mid Margarita isn't quite enough and you're feeling adventurous (and thirsty), try out their gallon-size Fishbowl Margarita. The drink is served with blue curacao in a fishbowl that looks like it's full of ocean blue water. One sip of a Margarita Loca margarita will have you loca for more.
Pina Colada – the Hangout
If you're feeling tropical and trying to find an island vibe on your beach trip to Gulf Shores and Orange Beach, then a Pina Colada might be your drink of choice. Another frozen delight, the Pina Colada combines pineapple and coconut flavors and instantly makes you feel like you're sun-kissed and relaxed. At The Hangout in Gulf Shores, you'll find the rum-based beach drink and some other summer classics. Malibu coconut rum is the star of several cocktails at the Hangout, including the fruity Alabama Sling and the Shark Attack. Don't worry; you're only in danger of having a great time when you order this shark attack.
Endless Summer – Playa Restaurant
Wouldn't we all love it if summer could be endless? When you try an Endless Summer cocktail from Playa Restaurant at Sportsman Marina, you'll feel like maybe there's a chance the sun won't set on your vacay. This cocktail combines Cathead vodka (from our neighbors to the west, Mississippi) with elderflower, kiwi puree, lemon juice, and basil. The unique floral flavors taste like summer in a glass. Playa offers a variety of specialty cocktails with liquors, including gin, tequila, rum, and even America's spirit bourbon. If you head to Playa for Sunday brunch, try their Michelada for a Mexican twist on a Bloody Mary.
Frozen Daiquiris – Island Time Daiquiris & Pizza
Daiquiris and pizza are a match made in heaven during your beach vacation. Stop by Island Time Daiquiris & Pizza for a frozen drink and fresh slice while you stroll through the Wharf and stick around for live music on various nights of the week every summer. If you happen to be at the Wharf enjoying an icy treat from Island Time on a Monday night, you're in for a surprise with the Sparks After Dark fireworks show. An explosive show of glittering fireworks will light up the sky at 8:45 p.m. and leave plenty of time to dance the night away at Island Time afterward. Come for the daiquiris and stay for the good times.
Craft Beer – Big Beach Brewing
Sometimes when you're on vacation, you want a fancy cocktail with all the bells and whistles; other times, you want a good old-fashioned brew to quench your thirst. Big Beach Brewing, Alabama's southernmost brewery, marries the two with locally brewed beers packed with flavor. The brewery is open seven days a week and serves up a variety of beers, including IPAs and cream ales. Don't worry if beer isn't your thing; Big Beach also serves wine and Pensacola-crafted Big Jerk Soda for anyone who doesn't want to imbibe. Big Beach has live music most weekends for a music and beer lineup to enhance your vacation.
Rum Punch – Pink Pony Pub
Our final summer cocktail will have you feeling like a pirate sailing the seven seas. The Caribbean-inspired Rum Punch mixes light and dark rum with various fruity flavors and is considered one of the earliest known cocktails. It's no wonder that the Pink Pony Pub features the beverage on its menu. The Pink Pony Pub in Gulf Shores is hard to miss with its Barbie pink exterior and classic charm. The restaurant and bar sit right on the shore, and the deck is a great place to enjoy the Alabama Gulf Coast sunshine. Belly up to the bar like the locals for a Rum Punch or any other specialty cocktail the Pink Pony offers.
Who Needs a Drink?
A vacation can only be made better with a drink in your hand. Try out these local watering holes and festive summer drinks on your next Gulf Shores and Orange Beach trip. We guarantee you won't be disappointed once you start sipping.
Vacation Email Sign Up
---
Related Topics
electric vehicle charging stations Gulf Shores Orange Beach Property Management United Way