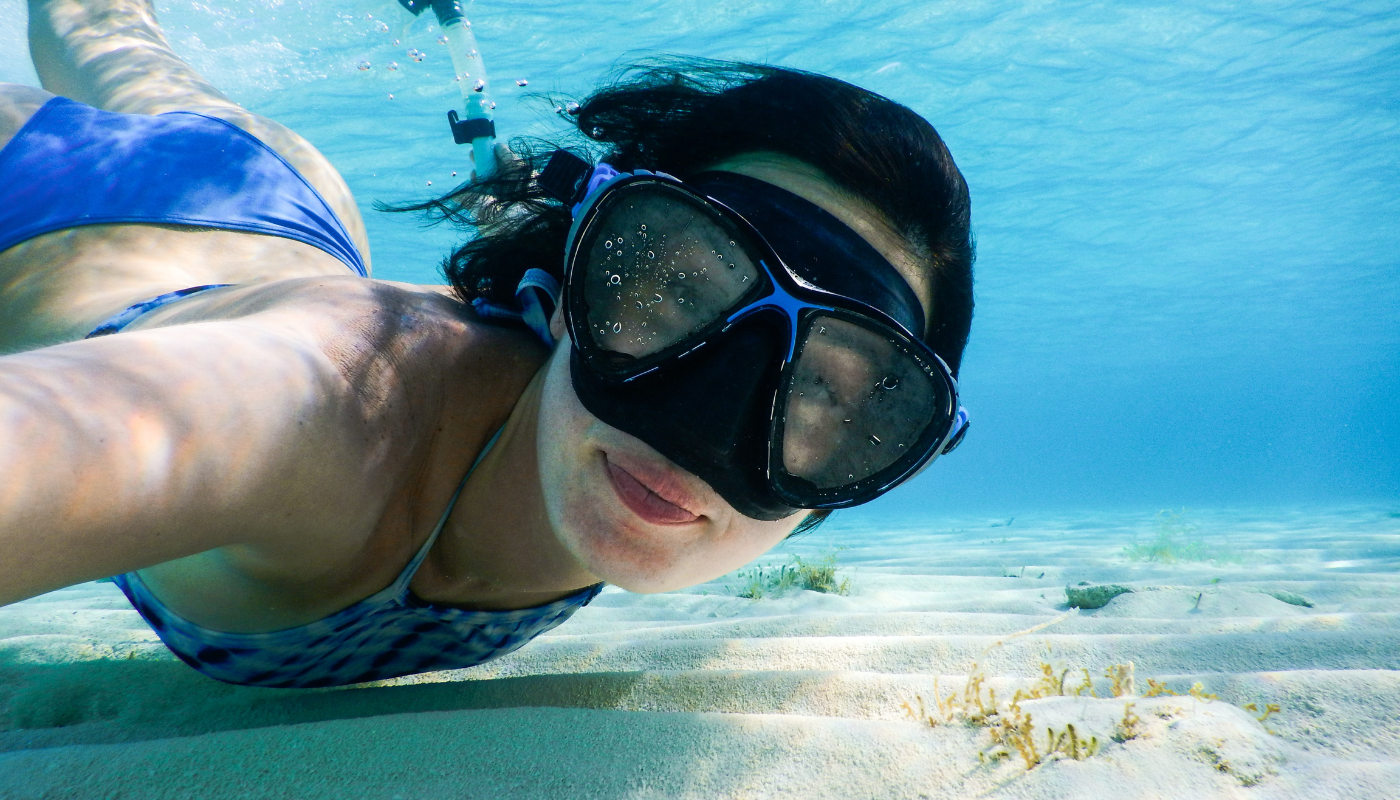 Sea Life – What to Expect When Snorkeling Alabama's Gulf Coast
June 15, 2022
It's hard to imagine you'd ever get tired of exploring the Alabama Coast. Gulf Shores and Orange Beach are a mecca for vacationers, whether traveling to the area for the first time or returning annually (as many do) to enjoy the scenic wonders. If you've been here, you already know it's a water playground loaded with activities for the whole family. Maybe you've spent time paddleboarding or kayaking in Lake Shelby, explored Bayou St. John on a pontoon boat, or seen the sights from above parasailing over the Gulf of Mexico. If you love what's above the water, wait until you see what's below.
Shallow depths, diverse sea life, and clear visibility make the 80 miles of Alabama coastline a snorkeler's paradise. And with water temperatures well above 70 degrees between May and October, it's an inexpensive and fun activity for the whole family throughout the changing seasons. Some tips and tricks for a successful adventure might help, so read on to learn more about snorkeling on Alabama's Gulf Coast.
Safety First
The best snorkeling conditions include sunny, warm days and moderate waves; you'll find plenty of both along Gulf Shores and Orange Beach. Fewer waves improve visibility, and warm water temps will keep you comfortable while exploring these diverse habitats. Check the local forecast for weather and water conditions and apply sunscreen liberally before heading out, emphasizing the back and shoulders. A long-sleeved rash guard or swim shirt will also protect exposed areas.
Look for beach warning flags upon arrival and begin in shallow water away from boaters and surfers. We highly recommend deploying a red-striped dive flag in proximity for your safety, as boaters are required to maintain a 100-foot distance when they see this. Fatigue and cramping can sometimes occur, so always dive with a buddy in case you need assistance.
The Lowdown on Gear
One of the great things about snorkeling is that it requires little equipment, and what you need is readily accessible. A diving mask, snorkel, and swim fins will see you out and exploring in no time! All come in various shapes and sizes, and snorkels are often conveniently integrated into the mask.
Pro Tip: Don't bog down your bags with bulky gear. Simply pick up what you need at the local Wal-Mart or rent gear from a nearby dive shop or an equipment rental company.
A great fit with your equipment is vital and can make all the difference. Your mask should fit snugly but not tight, and be sure to defog before strapping it on. A little bit of spit rubbed on the interior lens beforehand will provide clear visibility throughout the day. A little unpleasant but effective, this method will save you from buying anti-fog spray. Although not mandatory, short fins will assist with maneuvering and help protect your feet during the excursion. Also optional, an inflatable snorkeling vest or belt will help with buoyancy and balance, so you can concentrate on seeing the sights!
Pick Your Site
You'll find many inland snorkel sites, several close to public beach accesses with bathrooms and showers, making for quick and easy cleanup. Be aware that weather and tide conditions affect visibility, so opt for a location with minimal waves and currents. From wrecks to vessels to artificial reefs, you'll find lots of things to see, and each spot is teeming with fascinating ocean creatures. Take your pick from the list below and dive in!
Circalittoral Reefs – with three beach access points at Gulf State Park and just 500 feet from shore, you'll quickly be immersed in a thriving reef filled with sea turtles, octopus, sea horses, and more in this evolving ecosystem.
Paddle Wheeler – a depth range varying from 8 to 20 feet makes this a popular spot for beginners. Located just west of Lagoon Pass in Gulf Shores, the area is brimming with an array of marine life ripe for discovery.
The Whiskey Wreck – just 150 yards from the Gulf Shores shoreline lies a 1920's 200-foot sunken rum runner boat encompassing 300 square yards. A fun adventure in shallow waters of 40 feet, be on the lookout for statues of Poseidon, Apollo at Poseidon's Playground, and Venus of the Sea.
The jetties at Alabama Point and the pilings at the Perdido Pass Bridge – snorkel when the tide is coming in, and you'll likely experience visibility of up to 25 feet. Stingrays, sea urchins, and spider crabs are just a tiny sampling of the sea life you'll discover.
Let Someone Else Lead the Way
Although it's fun to get out and explore on your own, sometimes it's nice to have someone with a little more familiarity handle all the details. After all, who knows the area better than our friendly locals? Book a snorkel and sail tour with Sail Wild Hearts for a great time the whole family will enjoy. All equipment is included in this 2-hour guided tour at the Alabama Point jetties. Bring a swimsuit, towel, and sunscreen, and several local dive shops will provide the guides and snorkeling gear while you explore the local reef system in the Gulf of Mexico. No matter how or where you choose to see the sights in Alabama's water wonderland, we're confident you'll make memories to last a lifetime!
The Perfect Ending to the Perfect Day
A change of clothes will come in handy afterward because you'll want to top off the day with some fresh seafood and a cool drink. Start with the gumbo at Bahama Bob's, followed by the day's fresh catch, and finish with a frozen pina colada while the kiddos enjoy non-alcoholic versions. And no trip to the Alabama Coast would be complete without a Bushwacker, a creamy concoction made of rum, liqueurs, and vanilla ice cream (both Tacky Jack's and Flora-Bama are known for making the best.) Now settle into a cozy chair, watch the sunset over the water, and reminisce about the splendors of the Alabama Coast. It doesn't get much better.
Vacation Email Sign Up
---
Related Topics
electric vehicle charging stations Gulf Shores Orange Beach Property Management United Way