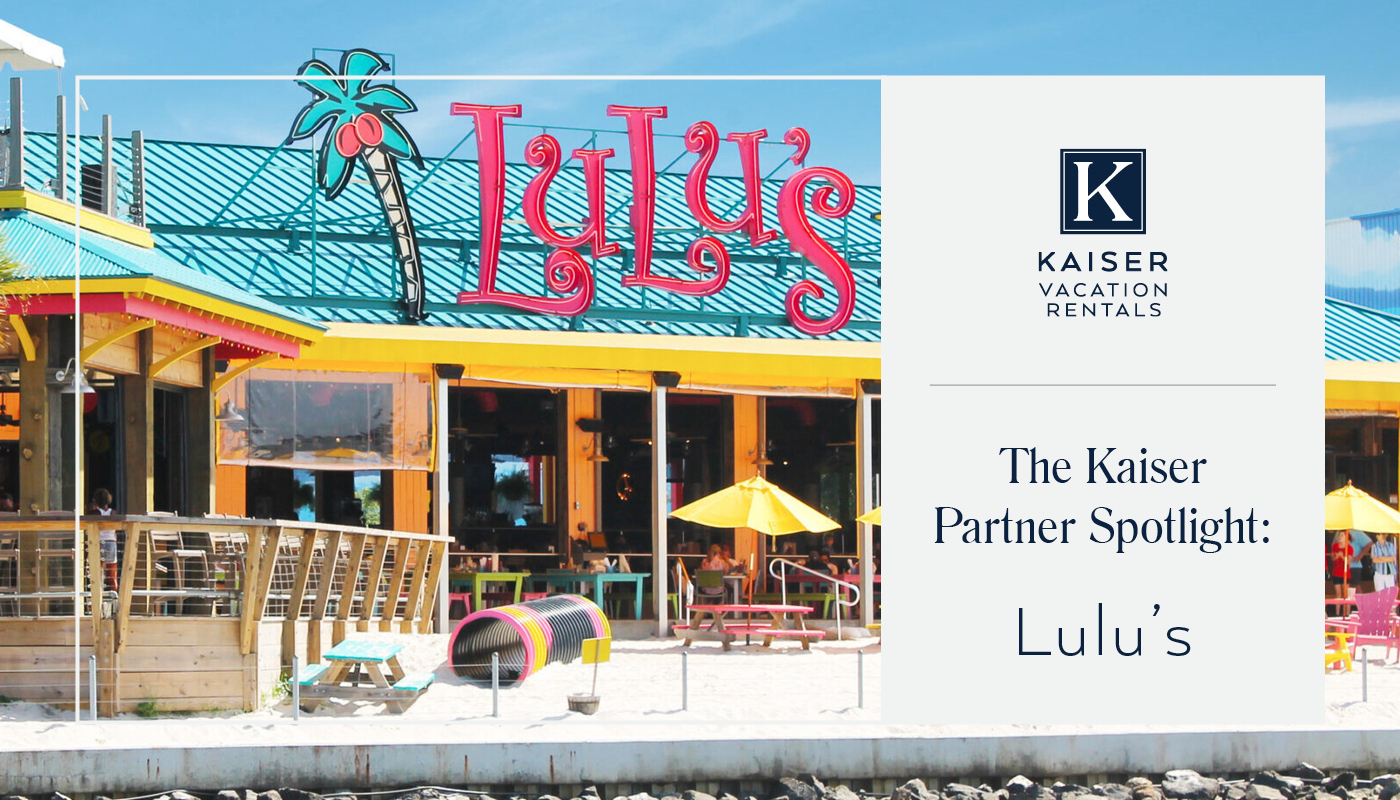 The Kaiser Partner Spotlight – Lulu's Restaurant
April 13, 2022
With deep roots along Alabama's Gulf Coast, Kaiser Vacation Rentals lives and breathes Southern hospitality. It begins with an understanding that conversations aren't rushed, nor are the meals, and making guests feel like family is the backbone of our heritage. Steeped in tradition, rich in history, and filled with colorful characters as diverse as the landscape, inviting others to share our culture is an integral part of the charm that brings visitors to the area year after year.
We're fortunate to be surrounded by community members who feel the same.
Take Lucy Buffet, founder and CEO of Lulu's, a treasured jewel in these parts. Born and bred in Alabama, Lucy learned early on that food not only brings people together; it's a way of communicating. Her menu speaks volumes about the coastal South in which she was raised.
To learn more about Lulu's, Glen Kaiser, Founding Partner of Kaiser Vacation Rentals, sat down with Lucy and Gabrielle Barnett, Marketing and Communications Director, to learn more about Lulu's origins and what's on the horizon.
What you can expect at Lulu's
Lulu's is a family-friendly restaurant known for delicious coastal cuisine, fun outdoor activities, and a steady stream of live music. With locations in Alabama, Florida, and South Carolina, we're highlighting the flagship restaurant in Gulf Shores, Alabama.
How Lulu's Got Its Name
Coined "Lulu" by her siblings when she was a child, the name stayed throughout the years. Now, family, friends, and folks she's never even met fondly refer to her as Lulu.
Humble Beginnings
After a stint in Los Angeles, Lucy returned to the Gulf Coast to help her aging parents. Thus began her culinary expedition at Fish River, and when the lease expired years later, Lulu's in Gulf Shores was born.
The Mother Ship
All three restaurants share the same DNA and menu but vary depending upon the flavor of their communities. The Gulf Shores location, the Mother Ship, is the largest property.
A Southern Scratch Kitchen
Everything is scratch-made on the premises, featuring a menu showcasing grandma's recipes. Her favorite menu item? Let's just say she gained ten pounds when they put the crab nachos on the menu!
What About the Music?
Many famous headliners have played at Lulu's, but you won't find Lucy on stage anytime soon. As she puts it, "it's not my day job!"
Upcoming Events
Southerners love any excuse for a celebration, and there's always something fun going on at Lulu's. This Spring, the Easter bunny will make an appearance, and LuLuPalooza will return on Memorial weekend to kick off the summer!
Bringing the Fun Back
Labor shortages have affected everyone in the area, so have some patience when visiting. We're all doing our best to make sure you have a great time while you're here!
Be sure and swing by Lulu's in Gulf Shores when you're in the area and check out her other locations on future travels. Kaiser Vacation Rentals is always ready to accommodate you and your family during your stay, so browse our selection of vacation homes before heading this way!
Vacation Email Sign up
---
Related Topics
electric vehicle charging stations Gulf Shores Orange Beach Property Management United Way