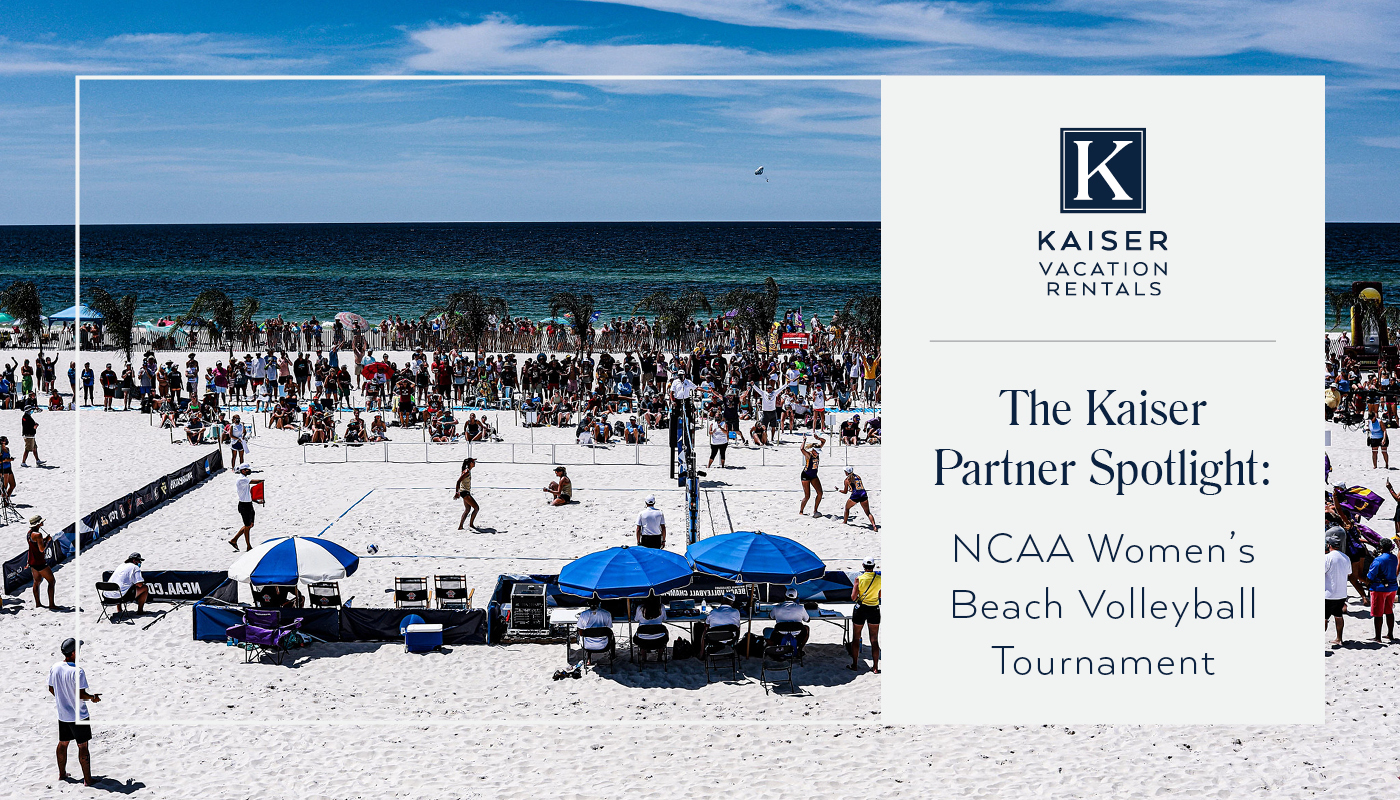 The Kaiser Partner Spotlight – NCAA Women's Beach Volleyball Championship
June 27, 2022
Gulf Shores and Orange Beach, AL, are known for their sugar-soft sand and breathtaking water, perfect for family and friends to partake in the classic summer beach vacation. Visitors near and far, from first-timers to committed Alabama beach fanatics, know that our slice of paradise is something to be appreciated. Our community knows it, too, which is why the area is spreading its wings to share our lovely beaches with new segments of visitors, particularly in the sports arena.
For the past several years, Gulf Shores has hosted the NCAA Women's Beach Volleyball Tournament, bringing visitors from around the country to watch or compete in an intense couple of days of volleyball action. With lots of news and media coverage, a new approach to eliminations, and an emerging destination for new visitors, it's safe to say there was a lot of hype around the competition this year, which took place in early May 2022.
Glen Kaiser, Founding Partner of Kaiser Vacation Rentals, had the opportunity to speak with Beth Gendler, CEO at Gulf Shores & Orange Beach Tourism, and Michelle Russ, Vice President of Sales, Sports and Events, to get the details on the event and everything that goes into it to ensure its success.
Here's what they had to say.
How Gulf Shores Secured This Event
For many years, Gulf Shores hosted the American Volleyball Collegiate Association (AVCA) until the NCAA spotted this emerging sports destination and had to take a closer look.
A New Elimination
This year, the NCAA took a new approach to elimination, creating the opportunity for more teams to travel, but with a challenging twist.
Media Coverage Galore
The tournament is televised annually on the ESPN Family of Networks, allowing people across the country to glimpse the beauty of Gulf Shores.
It's All In the Sand
It's no surprise that the women competing in this tournament have a preference for sand quality, and players near and far give a lot of praise for our beach conditions.
Do You Have to Live at the Beach to Play Beach Volleyball?
Contrary to popular belief, you don't have to live near a beach community to play beach volleyball. Beth and Michelle explain how sand courts have changed the playing field (or sand).
Is Volleyball Here to Stay?
When you have great success, it's worth expanding. Gulf Shores will be hosting the largest youth volleyball tournament in the Southeast, offering a fantastic opportunity to expose junior teams to their potential future.
The Future of the NCAA Women's Volleyball Tournament
Beth and Michelle discuss the future of this tournament and how they'll work together with the community to secure future tournament dates.
Visit the Gulf Shores & Orange Beach Tourism Sports & Events Page to learn about upcoming sporting events. During your next visit to Alabama's Gulf Coast, hopefully to catch an exhilarating volleyball tournament, make sure to give yourself room to spread out with one of Kaiser Vacation Rentals' luxury beach homes.
See you on the sand!
Vacation Email Sign Up
---
Related Topics
electric vehicle charging stations Gulf Shores Orange Beach Property Management United Way