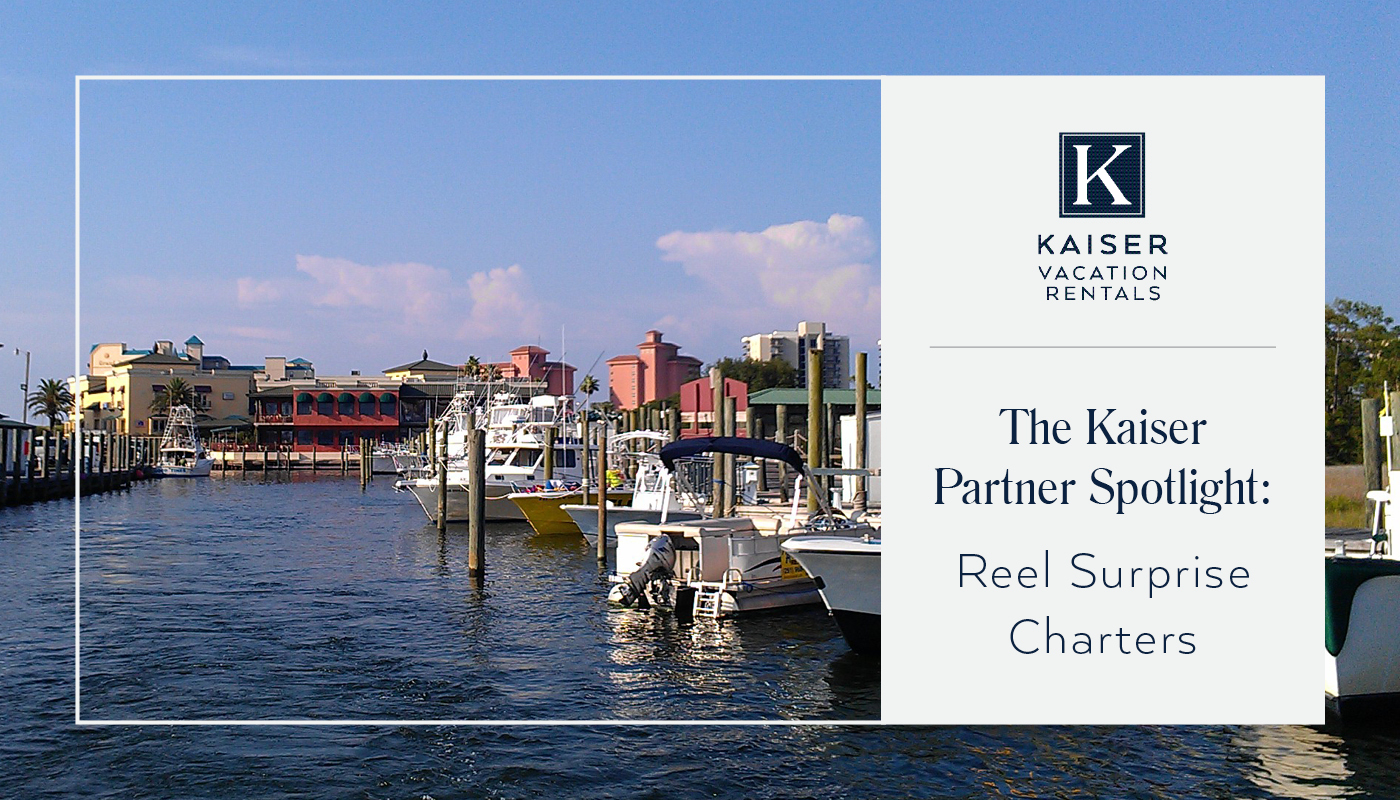 The Kaiser Partner Spotlight – Reel Surprise Charters
September 10, 2022
Alabama's Gulf Coast is known for its sugar-soft sand and breathtaking coastline as far as the eye can see. Brimming with sealife, on a typical day of beach lounging, you'll likely catch dolphins playing in the distance, a bobbing sea turtle, or fish jumping out of the water. But if you're looking to experience the Gulf of Mexico from a new lens, hopping on an Orange Beach fishing charter is the way to go.
Reel Surprise Charters, one of the best Orange Beach fishing charters in the area, has been taking aspiring fishmongers into the Gulf for 26 years and counting.  Owners Randy and Susan Boggs live by their motto, 'reel fishing, reel fun' and provide their patrons quality service in the most basic understanding: treat people how you want to be treated. And boy, does it show.
From individual walk-ons to large corporate and leisure groups, there's nothing Reel Surprise Charters hasn't encountered, with some funny stories to boot. So we sat down with Randy and Susan to get the scoop on all things fishing. Here's what they had to say.
How Did Reel Surprise Charters Get Started?
Reel Surprise Charters opened its doors in the mid-1990s with a small boat and slowly grew its business over the years. For the last 16 years, they've set up shop in SanRoc Cay and have been enjoying it ever since. Tourists return to Reel Surprise Charters year over year for a fishing experience like no other. So what's the secret? For Randy, it's a pretty easy concept:
"We just try to be nice and treat people like we want to be treated, and they come back to us. It's an amazing concept." ~ Randy Boggs, Owner
Where Can Customers Find You?
Reel Surprise Charters is located in SanRoc Cay. If you search them online, you'll find their website with a convenient FAQ page and lots of YouTube videos of Reel Surprise Charters, so you can get a feel of what to expect (which is a great time).
What's The Fishing Season?
The fishing season in Orange Beach is year-round; it's just a matter of what fish you want to catch. Depending on the season, you could be reeling in red snapper, amberjack, triggerfish, and more.
As the saying goes, "a bad day out fishing is better than any day at work."
Booking An Orange Beach Fishing Charter
You can book an Orange Beach fishing charter either online from their website or by phone. If you're planning a large group trip, the best method is by phone. Why? Simply put, Reel Surprise Charters wants to make sure they can meet all your fishing needs and then some.
What To Expect
From the length of the trip to licensing and bait, here's what you need to know about a Reel Surprise Charter experience.
Randy's Honey Holes
Randy Boggs does not discriminate; he fishes everywhere from Panama City Beach to Mobile. Here are the details on some of his most successful fishing reefs.
Funny Stories Of Fun Times
With 26 years of charter experience, it's no surprise Randy and Susan have some stories to tell. Here are just a couple of them, but we're sure they'll give you more during your next charter.
Some Final Thoughts
Randy explains that even if you're not a fishing person, kids really enjoy the experience so take them out on a charter. From catching their first fish to seeing the sealife and Orange Beach from a distance, it's a memory they soon won't forget.
The next time you visit Orange Beach and Gulf Shores, Alabama, make sure to book a charter with Reel Surprise Charters. You're in for a treat! And while you're at it, lock in a Kaiser Vacation Rentals beach home with a steller kitchen to cook up all the fish you're sure to reel in!
Vacation Email Sign Up
---
Related Topics
electric vehicle charging stations Gulf Shores Orange Beach Property Management United Way