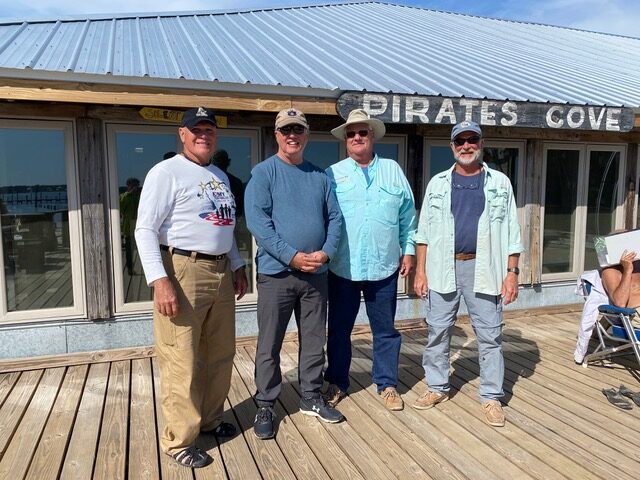 Top 5 Places to Fish in Gulf Shores and Orange Beach
December 23, 2021
With 60 miles of diverse shoreline along the Gulf of Mexico, a tidal shore bordering bays, rivers, and bayous extending another 600 miles, and an endless array of artificial reefs, the Alabama Coast is, simply put, an anglers paradise. Abundant inland waterways, sandy reefs and shallows, and back bays and lagoons dot the landscape with picturesque beauty and a bounty of marine life waiting to be discovered. Whether you prefer inshore, nearshore, or offshore fishing, you'll find it all year-round in Gulf Shores and Orange Beach. Locals get out as much as possible, and tourists flock from all over to cast a line in these popular fishing destinations.
"That saying that a bad day on the water or fishing is better than any day at work is truth," says Kaiser Vacation Rentals Co-Owner Glen Kaiser, who's spent his share of time on these waters over the years. Known as the "Red Snapper Capital of the World," the area is a major spawning zone for redfish and flounder from October through December. You'll find schools of pompano along the beaches and in passes during the spring, while sheepshead appears in the fall and stays through winter. From speckled trout to cobia and amberjack, you'll find it all along the Gulf Coast, and one thing is for sure. Alabama fishing is something you don't want to miss.
Be sure to get an Alabama Fishing License and scope out the public boat ramp access points before heading out and reference our tips below on the best places to fish in Gulf Shores and Orange Beach.
WHERE TO CAST A LINE IN GULF SHORES AND ORANGE BEACH
Gulf State Park Pier
A popular fishing spot with locals, Gulf State Park Pier is the longest fishing pier along the Gulf of Mexico. Stretching more than 1,500 feet out to the Gulf, and with 2,448 feet of fishing space available, you'll find an abundance and variety of fish, including redfish, cobia, and mackerel. A fishing tackle store with fishing pole rentals is available nearby, along with a snack bar, picnic tables, restrooms, and large fish cleaning stations onsite. Take in the views and try your hand at some of the best pier fishing around for less than $10 a day. With plenty of space for everyone, the whole family will enjoy a fun afternoon in the Alabama sunshine!
Alabama Point Jetties
The Perdido Pass separates the Florida and Alabama Points, an area marked by rock barriers that form the East and West jetties. The Alabama Point Jetties on the east side of Perdido Pass are comprised of large boulders that attract an array of fish species. Reefs mark the entrance to the pass, and water depths range from five to as much as 12 feet. A notable snorkel and diving spot, the area is also known for some excellent inshore fishing, with all types of saltwater fish roaming the area. Although many enjoy catch and release, why not source a delicious meal for family and friends? You'll have your pick from a wide selection, including pompano, sheepshead, redfish, speckled trout, grouper, and flounder. Several local restaurants will cook your catch and present an array of mouth-watering dishes bound to satisfy the heartiest appetite.
ALABAMA FISHING ALONG THE INLAND WATERWAYS
Bayou St. John Reef
A barrier island on the western tip of Florida's panhandle, Bayou St. John Reef, is situated southwest of Bear Point and northeast of Perdido Key. Also known as Oronoco Bay, it's one of 30 inshore artificial reefs along the Alabama coastal waters. Less than three miles East of Orange Beach, nestled between Terry Cove and Ono Island in Perdido Bay, this public reef was constructed by the Alabama Marine Resources Division and is a great spot for inshore fishing. With a depth varying between 11 and 25 feet, locals find the best time to catch the trout, redfish, and flounder prevalent in the area is during an outgoing or incoming tide.
THAT SAYING THAT ANY DAY ON THE WATER OR FISHING IS BETTER THAN ANY DAY AT WORK IS TRUTH.
Ingram Bayou
Tucked deeper in the inland waterways lies Ingram Bayou, situated between Wolf Bay and Hatcher Point northeast of Orange Beach. Surrounded on three sides by Alabama forests, you'd be hard-pressed to find a building in sight. Take in the natural surroundings, gorgeous landscape, and fish for spotted sea trout and red drum among one of the most tranquil backdrops around. "A peaceful oasis that lets the new day begin to provide some warmth from a friendly sun," says Kaiser, reflecting on a recent journey to this sublime location.
Intracoastal Waterway
The Intracoastal Waterway is a 3,000-mile inland waterway running from the East coast southward along the southern tip of Florida then back up through the Gulf Coast. These local channels link together through a series of inlets, rivers, bays, and sounds and provide navigable inland passage along the seaboard, each presenting ideal conditions for prime fishing. You'll find redfish in the shallows near coastal islands as well as other species, including mullet and speckled trout. Swing by the Wharf before heading out, stock up on fuel and supplies at the full-service marina, then settle in for a peaceful day of fishing.
FISHING BEYOND GULF SHORES AND ORANGE BEACH
Interested in big game fishing? Head offshore and try your hand at oil rig fishing for grouper, tuna, wahoo, and marlin. Alabama has one of the largest artificial reef programs in the world, creating a thriving marine habitat extending up to 55 nautical miles offshore. Book a charter and explore the massive collection and growing reef fish populations, including snapper, grouper, amberjack, triggerfish, and cobia.
No matter when, where, or how you fish in Alabama, it will be a day well spent and should culminate with a good meal and plenty of fish stories. According to Kaiser, "the only way to bring a day on the water to a close is a stop at Pirates Cove for a burger, fries, and a wonderful Bushwacker to wash it all down." We couldn't agree more.
THE ONLY WAY TO BRING A DAY ON THE WATER TO A CLOSE IS A STOP AT PIRATES COVE FOR A BURGER, FRIES, AND A WONDERFUL BUSHWACKER.
---
Related Topics
electric vehicle charging stations Gulf Shores Orange Beach Property Management United Way