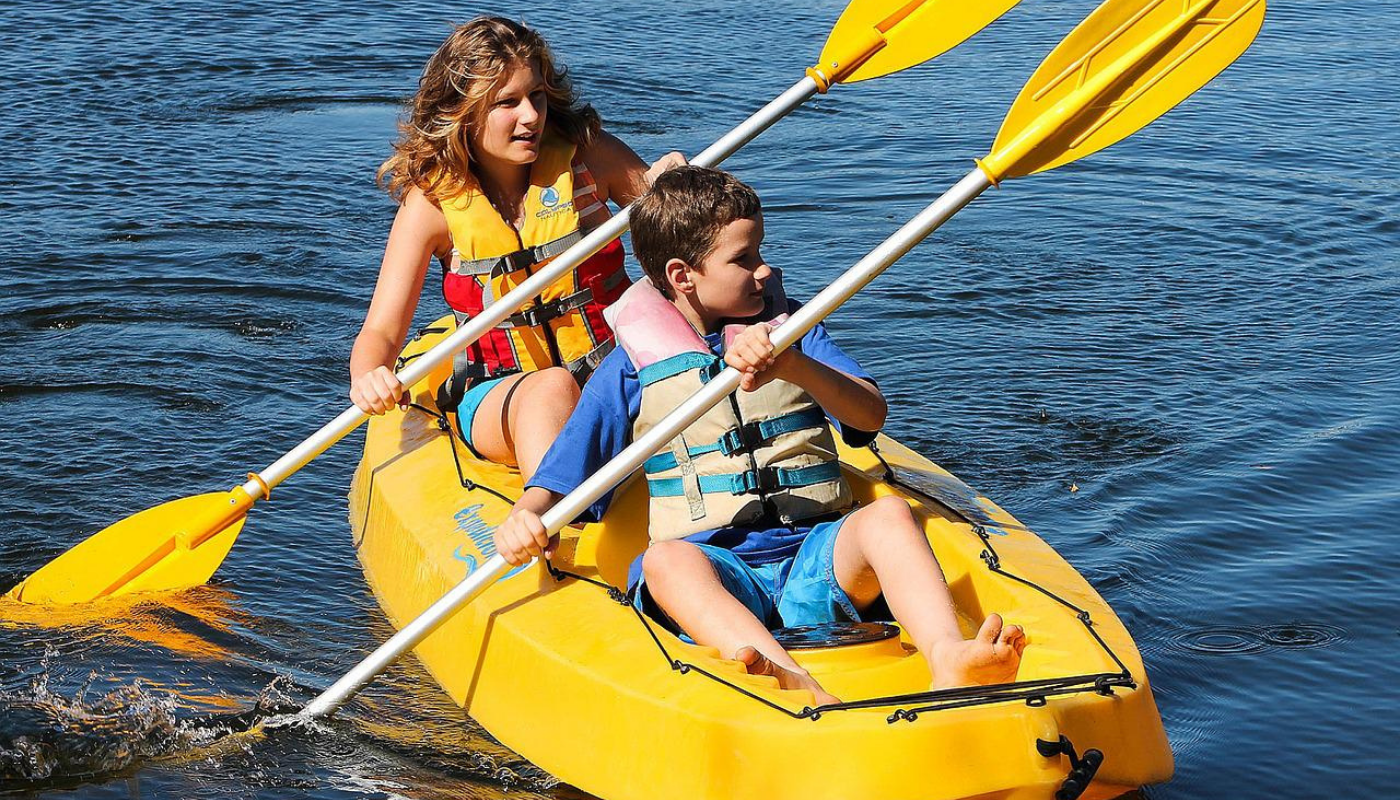 Travel Easy: Beach Gear Rentals
May 12, 2022
No matter what time of year you visit Alabama's Gulf Coast, you'll find plenty to keep you busy. Whether you prefer fishing at Gulf State Park, taking the kiddos to the Alabama Gulf Coast Zoo, or planning a family outing at Waterville USA, Gulf Shores and Orange Beach offers something for everyone all year long.
Of course, we'd be remiss if we neglected to mention the beach. With 32 miles of sprawling sandy shores bordering the emerald waters of the Gulf of Mexico, you and your family will find plenty of room to soak up the sun. But don't feel like you have to lug all of your beach gear when traveling to the area. You can readily capture the ultimate beach experience like a pro with a few tips from those that know the area best. With over forty years under our belt as hospitality professionals along the Alabama Coast, we can readily steer you towards local resources that will turn an average beach experience into an over-the-top vacation for the books!
Beach Gear Rentals and More Along the Alabama Coast
Beach Amenities
There's no need to cram the car with floats, chairs, and beach toys when you can get everything upon arrival. Beyond beach chairs and umbrellas, Ike's Beach Service is happy to outfit your whole party with single and double kayaks, paddleboards, and volleyball net setups, each item promising hours of fun. With serviceable locations throughout the area and delivery options available, it's pretty much a no-brainer.
Perdido Beach Service is another go-to spot for everything on your beach checklist. From cabana and chair sets to Hobie cats and ocean kayaks, you'll find plenty of beach amenities and fun water toys to elevate any beach day. For those experiencing difficulty navigating the sandy shores, Beach Power Rentals outfits motorized beach wheelchairs, granting the user complete control to experience the gorgeous Alabama Coast. Additionally, Gulf Shores has installed beach access mats for those with mobility issues, making the beachfront even more accessible!
Concierge Services
You'll find a host of concierge services in the area that quickly take any beach vacation to another level. Whether planning for a family reunion or wedding, a guy's golf trip, or a long girls' weekend, Beach Mom's Concierge Service takes it up a notch with a full-service concierge. Aside from booking excursions and event planning, they're also a reliable source for childcare recommendations and can even have groceries delivered to your beach vacation rental at your convenience. Another excellent resource, Stockd Concierge Services, offers an online menu of groceries, bait, and more, delivering your requests in an insulated multi-purpose tote.
After a long day at the beach, preparing a meal or even going out can seem pretty daunting. Besides, you're on vacation, so why not let someone else manage dinnertime? Book a personal chef and have a delicious meal prepared right in your vacation rental. From a casual shrimp boil to a four-course meal, Orange Beach Concierge provides a host of menu options and will handle all the details!
Curated Picnics
A fun way to celebrate a birthday, date night, or special occasion is with a curated pop-up picnic at the beach from Southern Charm Picnic Company. With four packages to choose from and the option to seat as many as forty guests, you're bound to find one to suit you, your friends, your family, and then some! Beyond just picnics, they offer backyard movie nights with themed balloon garland, a projector, and a movie screen for a night the kids will talk about for ages!
No problem if you've no time to plan but still want to enjoy dinner at the beach. Grab last-minute items at The Pantry at the Wharf, a gourmet shop offering a hot box menu, grab n' go items, and charcuterie boards available for takeout. Open seven days a week, don't overlook their breakfast and dessert offerings and a host of other specialty items, all equally delicious.
Touring Adventures
With so much to see and do, tours offer a fun and relaxing way to explore the scenic beauty in the area. Take in the wetlands and woodlands on the Hugh S. Branyon Backcountry Trail at Gulf State Park with Coastal Segway Adventures. Learn how to ride a Segway in a controlled environment for a 60-minute session, or opt for the two-hour tour and explore seven stunning trails throughout the park.
Take in aerial views of the beach and so much more with Hang Ten Helicopters. You'll find everything from romance and sunset tours to Civil War fort and shark tours offering incredible panoramas of the Alabama landscape. Ranging from quick five-minute jaunts to half-hour rides, it's a unique way to see the sights while lending a different perspective. Impromptu visits are welcome, although we suggest booking in advance to eliminate wait time.
Water Excursions
Take it beyond the beach with an afternoon sailing excursion that puts someone else at the helm. Sail Wild Hearts offers various inshore and offshore sailing cruises on a 53-foot sailing catamaran, complete with a Coast Guard licensed crew. Choose from a kayak adventure, snorkel through Perdido Pass, a morning or afternoon dolphin cruise, or a family adventure sail the whole family will enjoy!
If you'd prefer to discover the area on your terms, Watertoys2U has everything needed to get you where you want to go on the water. Rent pontoon boats, kayaks, and paddleboards and explore the area as you wish at your own pace.
Your Local Source for Alabama Adventure
At Kaiser Vacation Rentals, we recognize the difference between a good trip and a great vacation is often in the details. And with so much to experience along the Alabama Coast, it can be challenging to know where to start. Whether you're looking for first-class accommodations or ways to enjoy yourself while here, trust us as your local source for all things fun in Orange Beach and Gulf Shores.
Vacation Email Sign Up
---
Related Topics
electric vehicle charging stations Gulf Shores Orange Beach Property Management United Way