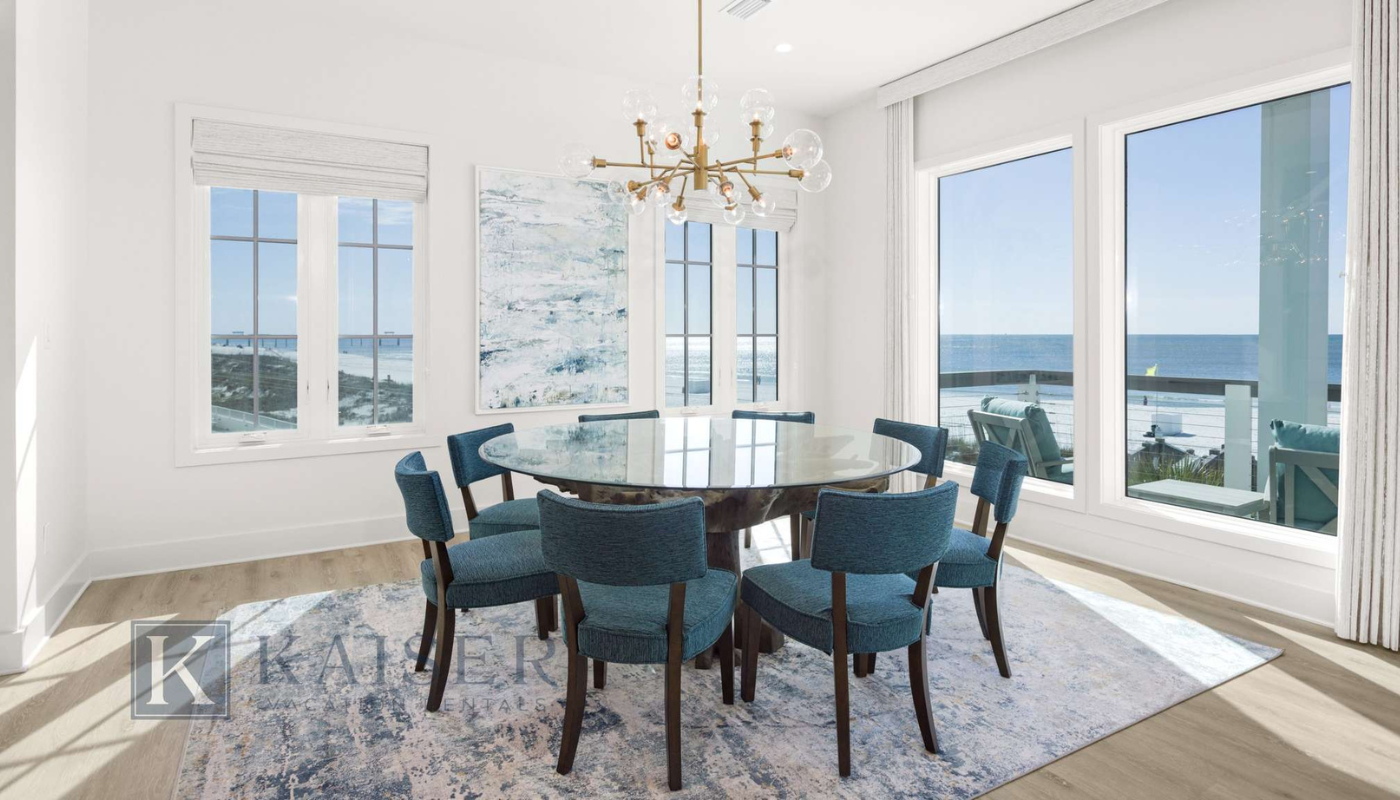 5 Tips for Finding the Perfect Beach House Rental
March 7, 2022
We can all agree that our personal homes are so much more than four walls and a roof over our heads. It's where we share our successes, laugh about our missteps, and feel most like ourselves over any other place. So when vacationing to the beautiful coastline of Gulf Shores and Orange Beach, AL, why settle for anything less in your beach house rental?
When planning your much-needed beach vacation, bring the feeling of home with you by choosing the right vacation rental so you can gather with the people you cherish most and enjoy accommodations that turn your vacay into one for the books.
Here are our top 5 tips for locating the perfect beach house rental.
Pool Access
We know you're likely coming to the beach for, well, the beach, but don't let that be the only body of water you have access to during your stay on Alabama's Gulf Coast. When selecting your beach house rental, be on the lookout for a private pool connected to the home or a community pool on site.
Whether a private pool or a community pool, both have their upsides. Private pools are great for entertaining the kids during the morning hours while you pack your beach bag and late-night dips to burn off some last-minute energy before turning in. Community pools are great to branch out and meet others staying in the area. Kids have that unique superpower to make friends wherever they go, and a shared pool is the perfect place to spark those friendships. Pick the pool type that best suits you and your family's needs, and just know, there's no downside, just poolside.
Beach Access
Sugar-soft sand. Emerald green waters. Sealife as far as the eye can see. Orange Beach and Gulf Shores are known for their breathtaking beaches, so we don't blame you for wanting to be as close to the beach as possible. We consider vacations a sacred time, which means making the things you love easily accessible and hassle-free. That includes the beach.
With private beach home rentals spanning from two up to 12 bedrooms, Kaiser Vacation Rentals prides itself on providing the utmost in luxury beach homes that get you from backdoor to toes-in-sand in no time. When searching for your next home-away-from-home, know that our selection of beach homes rests either directly on the beach or tucked just ever-so-slightly away from the beach. Simply put, no cars are needed to get your beach Vitamin D.
Bedroom and Bathroom Arrangements
This may seem relatively straightforward, but choosing the bedroom and bathroom configurations for your beach house rental can leave you in an awkward spot (pun intended) if not selected correctly. For example, say you plan a couples vacay and book enough bedrooms for each couple to get their own room, then arrive to find one of the bedrooms is fitted with bunk beds and the bathroom is shared with the common space. Well, you might find yourself hoping you don't pick the short straw for that room.
When choosing your beach house, review the photos closely and the amenity breakdown to ensure the space fits you and your travel party's needs. Kids are great at bunking up (and love it, to be honest) so look for a home with a bunk bed room if you're vacationing with a bunch of kiddos.
At Kaiser Vacation Rentals, we're here to make it easy. Each of our beach homes has a detailed breakdown of beds per bedroom, as well as additional bedroom information, like what floor the bedrooms are on, so you can book with confidence that your arrival will be nothing but smiles. You'll find this information towards the bottom of each home on our website, but we also encourage you to look at the photos because, well, they're just stunning to look at.
Grand Community Space
So you're traveling with a big group to the beach. Maybe it's with extended family. Maybe it's with old college friends and their budding families. Whatever the case may be, you've determined that you want to spend some very special time with your travel party, so you should have a space that encourages just that.
Grand living space is critical to a beach house rental. It fosters togetherness through an intense game of spades, a family-style dinner, or just some good old storytelling. Set the stage right by selecting an Alabama beach home with space for everyone. Kaiser Vacation Rentals curates only the finest of vacation home rentals, so there's no shortage of spacious floor plans that flow thoughtfully throughout the home. For the best idea of our layouts, review the photos of our private beach homes to get a sense of how the space will work for you. We do not doubt that even our two-bedrooms do an excellent job inviting everyone to a shared space for fun, laughter, and more.
EV Charging Stations
Electric vehicles (EV) are continuing to gain popularity, but a common concern with drivers is not necessarily where to charge them in route to someplace, but rather where to charge them once they get there. The last thing you want to do when arriving at your vacation destination along Alabama's Gulf Coast is head back out to find an EV charge station.
In November 2021, Kaiser Vacation Rentals introduced the first EV-equipped residential/vacation community on the Gulf Coast, Ocean Edge. The newest Gulf-front community on the Alabama Gulf Coast, Ocean Edge, boasts 14 pristine homes, each with its individual EV charge station on sight. Better yet, Ocean Edge also offers direct access to the beach, a community pool, bedding arrangements for pretty much all family sizes, and expansive common areas for hanging out. You could say it checks all the boxes for the perfect beach house rental.
Ready For Your Beach House Extravaganza?
When deciding which beach house rental is the best for you, book with a name you can trust, Kaiser Vacation Rentals. With all the information you would need at your fingertips, we are just a phone call away to answer any questions beyond that. At Kaiser Vacation Rentals, our family is committed to yours, including your extended family, friends, children, and anyone else in your travel party. Book today for our best selection of luxury beach homes.
Vacation Email Sign up
---
Related Topics
electric vehicle charging stations Gulf Shores Orange Beach Property Management United Way