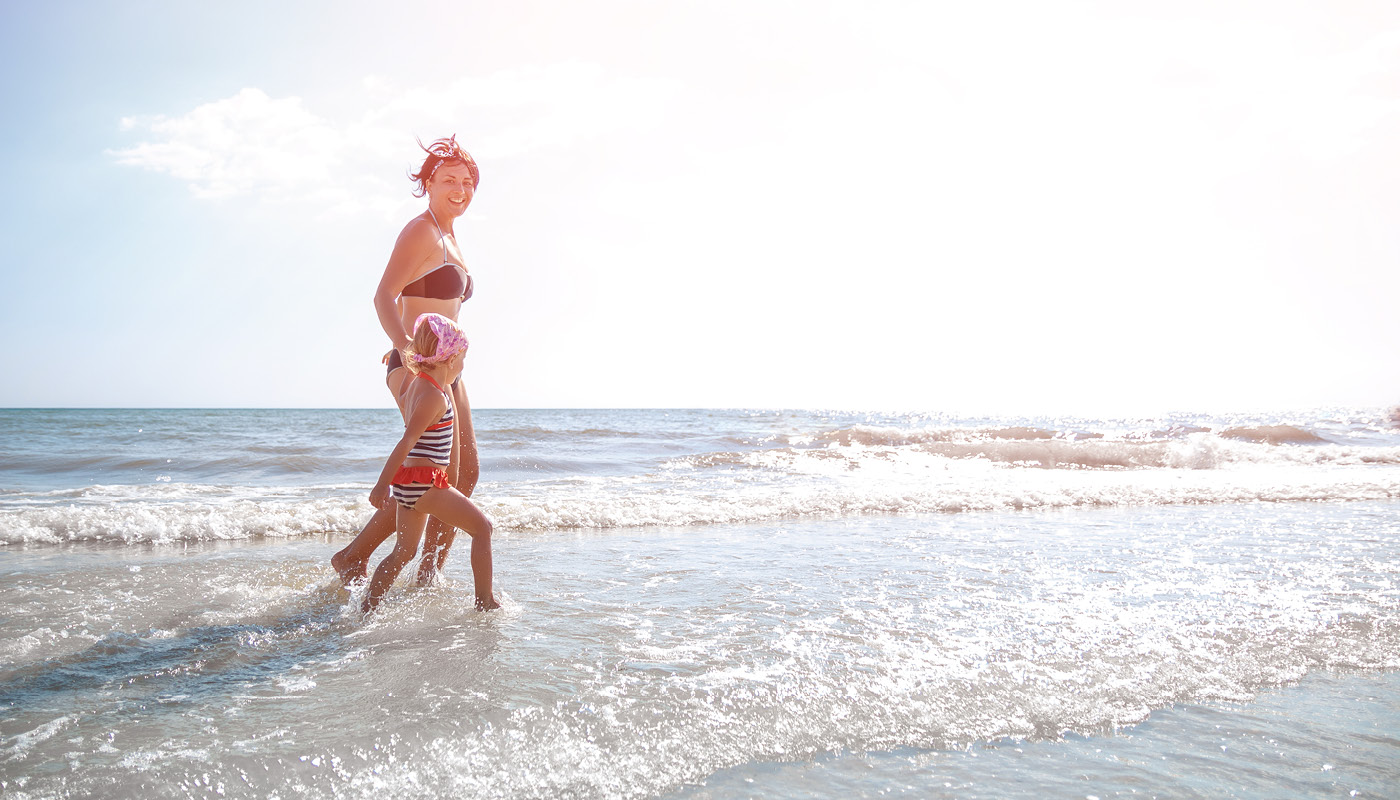 How to Pack For a Full Beach Day
February 28, 2022
Few things can top the perfect beach day. You know the kind. The temperature is ideal, the sky is a cloudless blue, and the water is crystal clear, offering a refreshing reprieve from the sun's rays. There's no better place to enjoy a day like that than along Alabama's Gulf Coast. Here you'll find an open invitation to a playground of adventures all year long, from things to do on the water to a host of shoreline activities. An inviting place to share time with family and friends, you can easily spend an entire day at the beach and not run out of things to do.
Many squeeze in a few hours of beach time between a flurry of other activities, but we think the best beach days last from sunrise until sunset. After all, what could be better than watching the first crack of daylight overlooking the Gulf of Mexico? Maybe packing everything you need to play all day, then watching the sunset as it slowly sinks into the horizon at day's end. Of course, you'll want a few things on hand to make it the best possible experience, so we've prepared the ultimate beach checklist with all the essentials for the perfect beach day.
Your Beach Checklist for Gulf Shores and Orange Beach
Pick Your Beach
First things first, and that starts with picking your beach. Indeed, we suggest you visit them all, but if your stay is limited, narrow the selection down by taking a few things into consideration. With several public beaches to choose from, we highly recommend selecting one with a shower. You'll appreciate a thorough rinse of your group's feet and beach supplies before heading back to your car or vacation rental.
Give some thought to how you plan to spend the day. If you have small children in tow, you may prefer shallow, calmer waters. If your tweens want to boogie board or body surf, you may opt for a beach with a bit more surf. No matter where you land, be sure to reference the beach rules and regulations in the area for a quick overview of some helpful reminders.
Pack the Essentials
Now that you've decided where to go, you'll want to bring along a few things to keep you and your crew comfortable throughout the day. At the top of your beach checklist should be bathing suits, water-resistant sunscreen, lip protection, sunglasses, and hats. Before you go, be sure to apply sunscreen so it has time to sink in and reapply often, particularly after being in the water.
A collapsible beach wagon with rugged traction wheels will come in handy to transport items to and from the beach, like a pack n' play for those still in diapers. Toss in beach chairs, an adjustable umbrella or canopy, a large blanket, and towels for everyone with a few extras for good measure.
A mesh beach bag is ideal for storing a change of clothes, a beach coverup, and bug spray should you need it. Water-resistant bags work well for storing wet items, and flip flops or sandals will get your toes into, and out of the sand, in a hurry. Be mindful when packing your wagon to head to the beach, placing the items you'll need first on top.
Hydrate and Refuel
You'll find plenty of casual restaurants nearby, but if you're at the beach for the long haul, you'll want to pack a cooler or two loaded with ice. As you sweat, you lose water, which can contribute to dehydration, so be sure to bring plenty of water. Sodas can be laden with sodium and sugar, so opt for Gatorade in single-serving powder packets that can be mixed with water instead. Coconut water is another good choice, and fruit is refreshing and hydrating at the beach. Watermelon, oranges, and grapes are excellent choices, and an assortment of snacks like chips, crackers, nuts, pretzels, and granola bars all work well to soothe big appetites.
As the day wears on, you'll be craving something more substantial. The sand can present some challenges during meals if it's windy, so it's best to pack hand-held foods. Opt for sandwiches and wraps come lunch and dinnertime, and remember that pasta and grain salads make great accompaniments. Napkins and wipes will help with sticky fingers, and resealable bags, plastic utensils, and paper towels are other useful items you'll want to have on hand.
Bring Entertainment and Accessories
Although the beach is entertaining all by itself, a full-day outing might warrant some additional gear, particularly if you'll be there from sunrise to sunset. A Bluetooth waterproof speaker will set the mood or headphones if you'd prefer to listen solo. Bring your phone, a waterproof case for protection, and a portable wireless charger to restore drained electronic devices. A good book or magazine is a pleasant way to pass the time while the kids take advantage of a myriad of photo ops with an underwater camera.
Dry sacks are helpful for storing various items, and ziplock baggies work well for collecting shells. Frisbees, balls, snorkels, and floats are all great choices, and you'll find it won't take much to rouse the group for a game of badminton, football, or volleyball. Don't forget floaties and goggles for waterplay with the toddlers, and throw in some fun beach toys, like shovels, pails, and nets which all work well both in the water and onshore. Remember, you can always rent other items like paddleboards and kayaks for even more fun in the sun.
The Perfect Beach Day Every Day
Your beach checklist may change as temperatures and conditions vary through the different seasons. Be sure to check the local weather before heading out, and don't worry if you've forgotten something. You can quickly replenish supplies at one of the many grocery stores and beach shops in Gulf Shores and Orange Beach, conveniently located nearby.
Vacation Email Sign up
---
Related Topics
electric vehicle charging stations Gulf Shores Orange Beach Property Management United Way