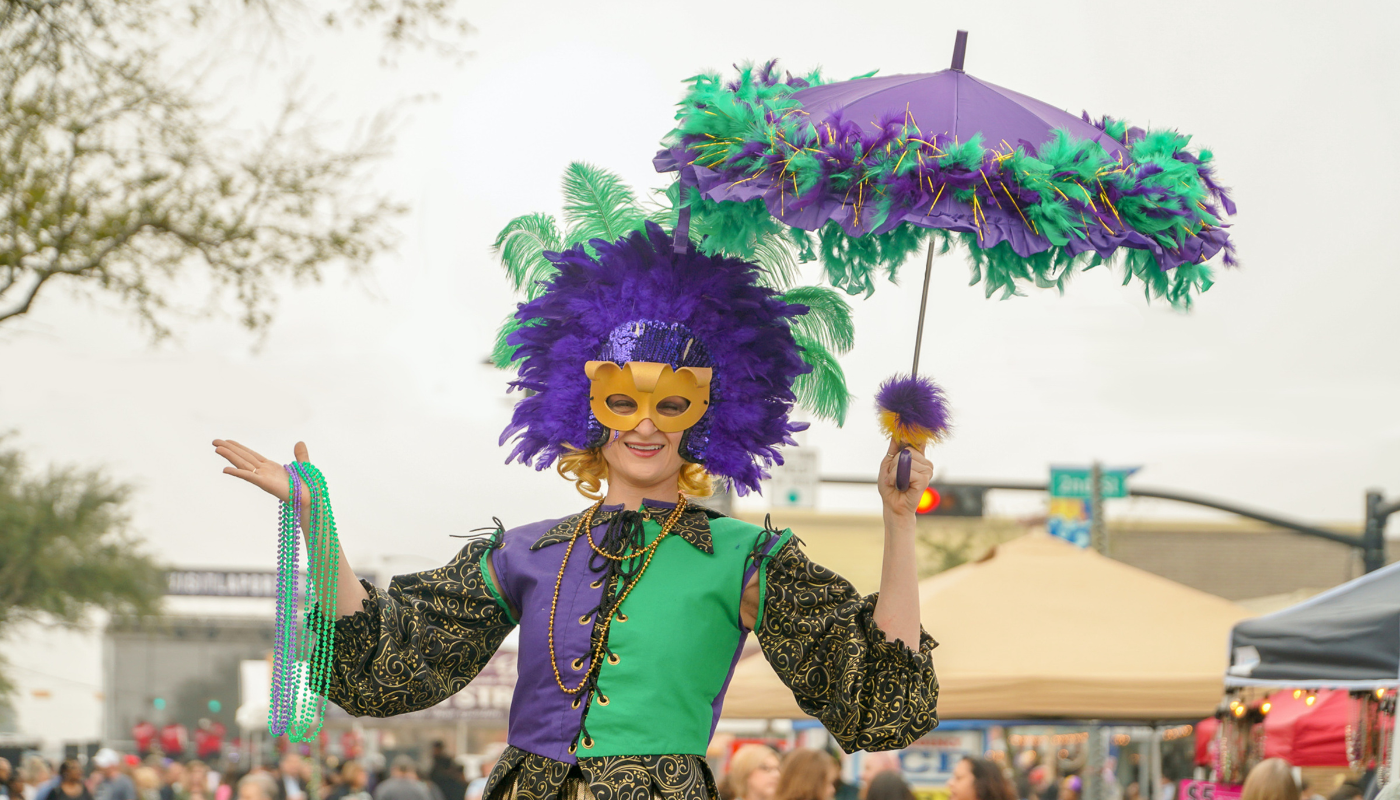 Day Trip – 5 Things to do in Mobile, AL
October 27,2022
Founded in 1702 by the French, Mobile is the oldest city in Alabama. Located in the state's Southwestern corner and bordering Mobile Bay, the "Gateway to the Gulf" offers unobstructed access to the Gulf of Mexico. It's also home to the Port of Mobile, originating centuries ago as a shipping center for cotton and coal, and today, one of the largest ports in the United States.
Thanks to the Mobile-Tensaw River Delta, Mobile is teeming with acres of coastal wetlands, estuaries, and diverse plant and animal habitats. A National Natural Landmark encompassing over 200,000 acres of rivers, creeks, bays, and bayous, the area presents a variety of outdoor activities all year long. Alongside these glistening waterways, streets lined with moss-covered oaks, and giant blooming magnolia trees lie historic buildings influenced by British, French, and Spanish rule. Contemporary attractions, including the opera, ballet, and symphony orchestra, garner just as much attention as Mobile's storied past, adding to the list of reasons thousands visit each year.
Like a rich Southern gumbo, Mobile is a confluence of the old and the new. A hearty stew composed of fascinating history, modern institutions, and diverse culture, with some Southern hospitality thrown in for good measure. Mobile is the perfect place to explore, and we've got a few suggestions on where to begin your day trip to Mobile.
Historical Museums
History buffs will appreciate a comprehensive overview of Mobile's past by touring one of the many museums in the area. With several exhibits and thousands of artifacts, the History Museum of Mobile covers 300 years of Mobile history, from the pre-Colonial era to the modern city it is today. Admission also covers entrance into Colonial Fort Conde, a replica of the original fort built in the early 1700s, which served to defend Mobile for over 100 years. Be sure to stop by the Phoenix Fire Museum while there. Housed in the restored home of the Phoenix Volunteer Fire Company, the brick firehouse showcases a mix of modern and antique fire vehicles, many from the turn of the Century. Adults and kids alike will be enthralled with horse-drawn steam engines and firetrucks before heading to the gallery upstairs to view historical remnants dating back to 1838.
The Mobile Mardis Gras is one of the oldest annual festivals in the United States and a fun time for all. If your day trip doesn't coincide with this multi-week celebration marked by masked balls and public parades, opt for the next best thing, the Mobile Carnival Museum. Featuring hundreds of artifacts, the museum documents the city's love affair with the winter Carnival commencing in February each year. Both informative and entertaining, explore the exhibits and art to catch a glimpse of past celebrations.
Interesting Tours
Tours are another fun way to learn about the area, and you'll find a variety in Mobile. Whether you're interested in history, architecture, or cuisine, there's a tour for that! Sample Mobile's diverse cuisine and learn about its fascinating history on a walking Bienville Bites Food Tour. Stroll through historic areas while a knowledgeable guide leads you through several local establishments with tastings at each. Choose from the Loda Stroll, an Old Mobile Evening, and Haunted Food Tours, each sure to delight.
Historic homes can still be found, remnants of an era when agriculture dominated the Southern economy and served as a way of life for its inhabitants. These restored antebellum structures serve as reminders, offering a glimpse of the social traditions and culture during that era. Ranging from Greek Revival to NeoClassical to Victorian, architectural elements vary, but each home is grand, all with a unique story to be told. Try the Bragg Mitchell Mansion Tour if you've only got time for one. The 13,000-square-foot home was built in 1855 and rests on 12 stunning acres of beautifully landscaped grounds dotted with majestic oaks. Catch the azaleas in full bloom during spring, then explore the expansive interiors filled with period furnishings.
Gulf Coast Exploreum Center
Promoting science through learning is the name of the game at the Gulf Coast Exploreum Center, and the kids will thank you for this one. Featuring immersive exhibits, short films, and demonstrations, the whole family can participate in dozens of entertaining activities in three permanent galleries. A state-of-the-art IMAX dome theater showcases feature presentations, and fascinating traveling exhibits make their way through too. Check the website for hours, current exhibits, and other helpful information beforehand. While there, let the kids burn off any remaining energy at Cooper Riverside Park nearby. Adults can relax on a park bench and take in views of the Mobile port while the kids run around the 3-acre waterfront park.
USS Alabama Battleship Memorial Park
Honoring veterans of all wars, USS Alabama Battleship Memorial Park is a must-see on your day trip to Mobile. Featuring retired aircraft and battleships from World War II, this military history park offers something for kids and adults alike. Tour the USS Alabama Battleship and the USS Drum submarine, decommissioned WWII vessels with fascinating careers. Take the time to learn about these National Historic Landmarks and the men who served aboard them and browse the aircraft pavilion filled with historic planes, military vehicles, and artillery. The Vietnam, Korean, and Fallen Hero 9/11 park memorials were built to honor service members from modern wars, while the Service Dog War Memorial pays homage to the many furry friends that have served our country.
Meaher State Park
Although technically not in Mobile, you'll pass right by Meaher State Park on your way back to the beach, and it's a lovely finish to an awesome day. Reminisce on the day's adventures while taking in a gorgeous sunset over Mobile Bay. Just ten miles east of Mobile, the park offers various outdoor activities, including hiking, fishing, boating, kayaking, and bird watching. See "America's Amazon" firsthand, the second-largest delta in the contiguous United States and North America's most biodiverse river system. Take in hundreds of bird and plant species on the nature trails or stroll along the pier for a view of the abundant fresh and saltwater fish in the area.
After your day trip to Mobile, be sure to check out our other day trip suggestions (like Fairhope and Fort Morgan) for fun and interesting ways to discover the beautiful Alabama Coast!
Vacation Email Sign Up
---
Related Topics
electric vehicle charging stations Gulf Shores Orange Beach Property Management United Way