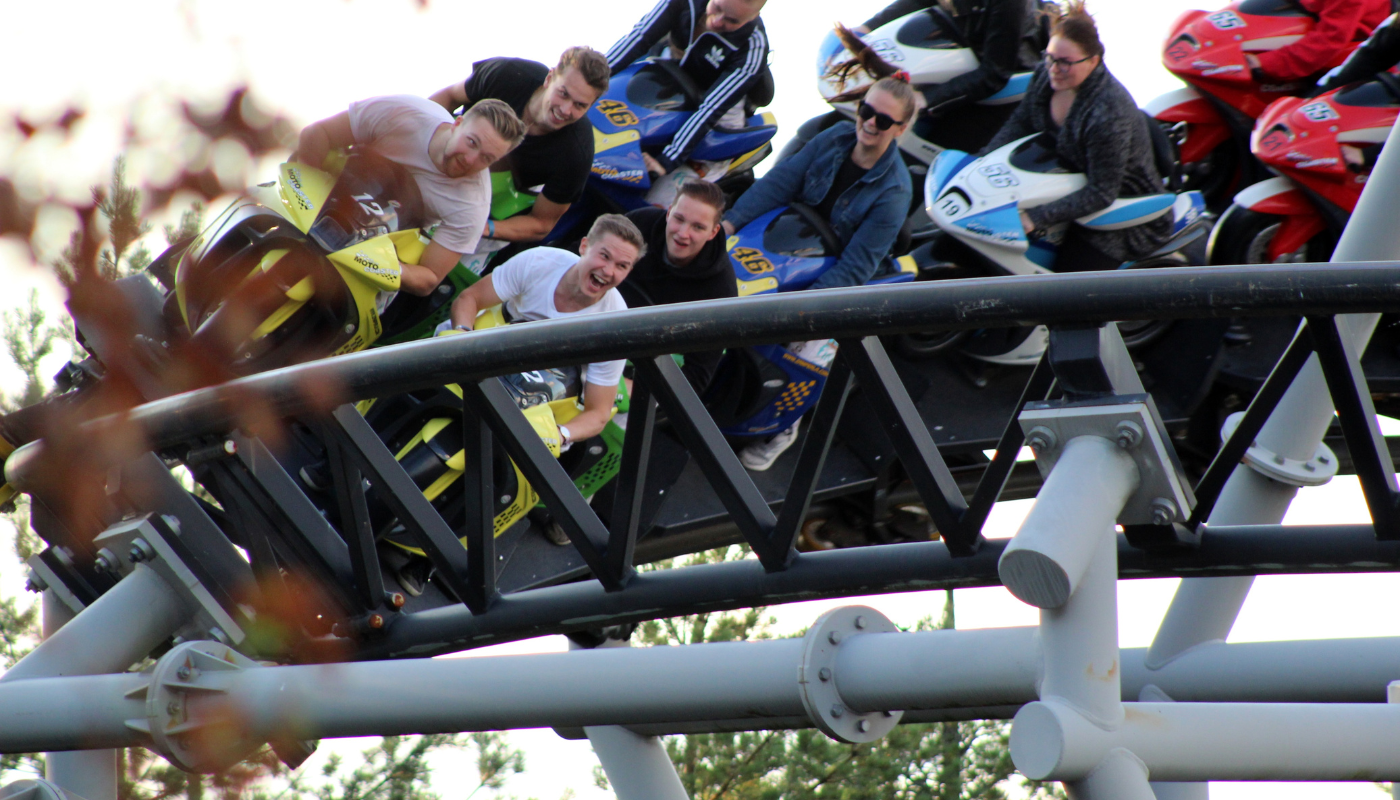 Not Just for Kids: OWA Itinerary for Adults
October 28, 2022
Although OWA is a great place to bring the kids, it was built with the whole family in mind. Popular with toddlers, teenagers, and college students alike, the 520-acre entertainment complex caters to adults just as much as the younger set. Ready to accommodate thrill seekers and adrenaline junkies of all ages, OWA features amusement rides, water slides, and so much more. Home to live entertainment and excellent restaurants, you'll also find refreshing libations sprinkled throughout the park. We know you always think of the kids first, but having a little fun without them is perfectly acceptable, and we can't think of a better place to indulge.
Be sure to reference our OWA itinerary for adults, not to be confused with our OWA Family Itinerary. This one is strictly for grown-ups, but it's bound to bring out the kid in you!
Know Before You Go
Although the park is open year-round, hours vary seasonally, so check the website for current information, including events, coupons, and special offers. Depending on when you plan to arrive, you've got a couple of breakfast options. Early birds ready to hit the ground running when the park opens may want to grab breakfast beforehand. If you'll be rolling in a little later and want to eat at the park, start the day at Cinnabon. Nothing like a fresh-from-the-oven cinnamon roll and a cold brew to start the day. Looking for something a little more substantial? Opt for the breakfast buffet at Sassy Bass Amazin' Grill, featuring omelets, pancakes, and beignets alongside other tasty favorites.
We're not really sure what kind of parkgoer you might be, but feel free to grab a tasty adult beverage first thing, just to get things rolling. You are on vacation, after all, and with no kids in tow! Just be sure to load up on sunscreen, bring some shades and a hat, and get ready for a day of fun in the sun.
Tropic Falls Theme Park or Bust!
Tropic Falls Theme Park offers a variety of amusement rides, and the park is split in half, delineating small rides for toddlers from those with minimum height requirements. Avoid the kiddie rides, veer left when you enter the park, and quickly get to the adult action. Hit Twister first for a ride that twists and spins 360 degrees in multiple directions, promising a whirlwind of a good time. Next, onto Alabama Wham'a, a gyrating vertical thrill ride, kind of like a Ferris wheel on steroids, that will surely get your adrenaline pumping. And don't miss Rolling Thunder, OWA's largest roller coaster featuring deep plunges, vertical loops, corkscrew turns, and a zero-g roll. On second thought, hit this one a couple of times, then swing by the midway games for a chance to win a souvenir. A refreshing frozen concoction at Rum Island Daiquiri Bar might hit the spot right about now, but totally your call.
Next Up – Tropic Falls Indoor Water Park
Onto Tropic Falls Indoor Water Park, the region's largest of its kind. Plummet down a body slide featuring a nearly vertical drop on the Tangerine Scream, then plunge head first on the Serpentine Swirl, a body slide featuring crazy twists and turns and 360-degree loops. There's nothing like the element of surprise, and the Piranha Plunge delivers. Enter this spiral water-filled tube feet first, and enjoy the thrilling descent with a 360 loop and a floor drop thrown in just for kicks!
Lunch and a Cocktail
Surely, you've worked up an appetite, and you'll find plenty of lunch options at Downtown OWA. Select from sushi rolls, poke bowls, hibachi meals, and more at Sushi Co or enjoy a lovely charcuterie board at C'est Le Vin Wine Bar. With wine, craft beer, cocktails, and spirits, it's the perfect place to relax and share stories of your adventures thus far. If you missed Sassy Bass Amazin' Grill for breakfast, give them a try at lunch and refuel on sandwiches, po'boys, burgers, or salads before heading off to the next adventure!
Shopping and Dinner
If you weren't so lucky at the midway, you can easily pick up a keepsake at one of the shops along the way. Grab a T-shirt, hat, and more at Alvin's Island and Trop Shop, both one-stop shops for all your vacation needs. For an out-of-the-ordinary souvenir, swing by Murder Creek Moonshine Distillery. Distilled, mixed, bottled, and labeled on-site, sample a constantly evolving moonshine selection, including blueberry, banana pudding, and dizzy pickle. Better yet, opt for the Murder Train Tasting and try them all for a dollar. A knowledgeable staff is available to answer any questions, offer cocktail ideas, and ensure you're having a great time.
Refuel with quesadillas, tacos, and burritos at El Diablo Taqueria & Cantina. Featuring more than traditional Mexican fare, you'll find short ribs, ribeye steaks, and more, with food and drink specials daily. After dinner, hit Libations for a Tropical Hurricane, a Frozen Falls Margarita, or a Jack Daniels Tennessee Fire and Ice before catching a show!
Shows and Seasonal Events
Events run all year long at OWA, Oktoberfest being just one of them, held on the first day of October. Browse the vendor's booths, and enjoy German sausage dogs and giant Bavarian pretzels while sampling your favorite brews. From costume contests to stein racing to beer games and more, it's a fun time for all. If you and your crew like horror flicks, revisit some favorites at Halloween Movie Nights. Featuring a lineup of classics, choose from A Nightmare on Elm Street, Friday the 13th, or the Shining, then enter the haunted house, Nightmare Chambers, if you dare.
Too intense? Come in costume to the Rocky Horror Picture Show for a chance to win $150. And you won't want to miss "Back in the Building, " an Elvis-themed production spanning multiple eras throughout his career brought to life by three tribute artist champions.
No matter what you choose to do, we hope this OWA Itinerary for adults sets the stage for a great day at the park and brings you back time and again!
Vacation Email Sign Up
---
Related Topics
electric vehicle charging stations Gulf Shores Orange Beach Property Management United Way