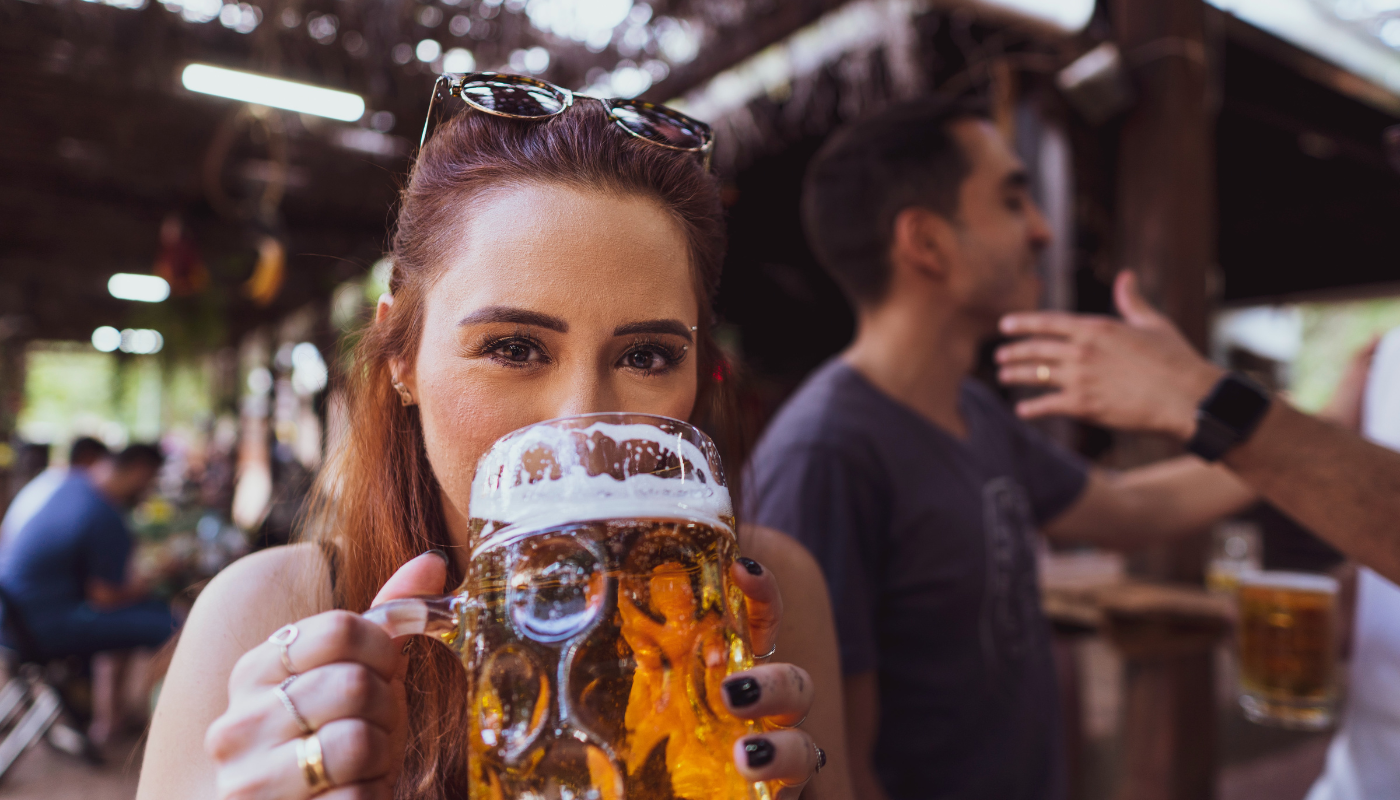 Fall and Winter Events in Gulf Shores and Orange Beach
October 14, 2023
There's never a shortage of fun things to do along the Alabama Gulf Coast, but as the temperatures cool off and the summer crowds disperse, Gulf Shores and Orange Beach come alive with fabulous festivals you won't want to miss! Whether traveling to the area for a quick weekend trip or celebrating Thanksgiving or Christmas on our sandy shores, we've got the scoop on off-season activities you won't want to miss!
The list is long but worth a peek for a quick round-up of fall and winter events in Gulf Shores and Orange Beach.
Annual National Shrimp Festival – October
Our warm Gulf waters produce some of the tastiest shrimp in the world, so be sure to break away from the beach for at least one afternoon to hit The Annual National Shrimp Festival.
There you'll find fellow seafood enthusiasts sampling a mouthwatering selection of Southern-style shrimp dishes prepared every way imaginable. Browse the booths, then kick your feet up with some BBQ shrimp, an ice-cold beer, and take in the soulful sounds of local musicians at this beloved Gulf Shores event.
Luna's Annual Oktoberfest – October
Although you're not required to wear lederhosen or a dirndl, you'd certainly be welcome at Luna's Annual Oktoberfest, a fun and festive Orange Beach event. Enjoy traditional German food, a little Polka music, and fun games for the whole family. You'll also find plenty of Oktoberfest beers to sample, sufficient Stein-hoisting, and plenty of fun memories made, no doubt. Prost!
Annual Jubilee Festival of the Arts – October
Just a short drive away in Daphne, the Annual Jubilee Festival of the Arts showcases the finest in art, music, and local cuisine. It's easy to see why this event has been going for over three decades and selected as the State of Alabama Tourism Event of the Year. Offering only the best in pottery, sculpture, jewelry, and more, you'll quickly get lost looking at treasures while taking in picturesque Bay views.
Fort Morgan Historical Haunted Tour – October
It's a mouthful, but the Fort Morgan After Dark Ghost Investigation and Historical Haunted Tour is more than just a trek through time. Considered one of Alabama's most haunted places, the 3-hour tour leads visitors through Fort Morgan, a historic Fort along Mobile Bay built in the early 1800s. Rumored to surprise visitors with ghostly appearances, you might want to bring audio equipment and digital cameras to catch the sights and sounds of its storied past.
Halloween at OWA – October
Featuring a series of events throughout the month in Foley, Halloween at OWA promises a spooktacular time for all. Head over on the weekend come mid-October for fun costume contests, a hay bale maze, and fall-themed photo ops throughout the park. Dress your beloved pooch in a cute costume and compete for cash prizes, and don't miss HalGLOWeen, a spirited occasion filled with family-friendly activities, glow-in-the-dark face painting, and a glow party!
Lulu's Halloween Movie Night – October
Lose yourself in heartwarming nostalgia watching Halloween movies from yesteryear at Lulu's Halloween Movie Night. If watching "It's the Great Pumpkin, Charlie Brown" and "The Addams Family" back-to-back doesn't get you in the spirit of the season, we're not sure what will! If you plan to hit this celebratory Gulf Shores event, dress in costume and bring a pumpkin to decorate.
Experience the Oyster – November
Known for family fun, great food, and live music all year, The Hangout is also home to a seafood festival that truly stands apart. Experience the Oyster is a two-day event featuring the Gulf Coast's finest seafood. The weekend promises a lineup of hand-crafted cocktails, freshly shucked oysters, and football on the big screens. Sample shrimp, gumbo, jambalaya, and more, watch oyster farm demos, and settle in for an epic weekend on the Alabama Gulf Coast!
Coastal Alabama Food Truck & Craft Beer Festival – November
What's not to love about food trucks and craft beer? Aptly named, the Coastal Alabama Food Truck & Craft Beer Festival, a family-friendly Gulf Shores event, delivers on both counts. Think warm grilled cheese sandwiches, savory lobster rolls, and cheesesteak-loaded fries all washed down with your favorite brew—now that's celebratory! Bring lawn chairs and blankets and relax in the sunshine while a local DJ spins your favorite tunes.
Frank Brown International Songwriters' Festival – November
Join songwriters and performers at the Frank Brown International Songwriters' Festival, an eleven-day event that's nothing short of spectacular. Learn the stories behind the songs as entertainers perform in various venues along the Florida and Alabama Gulf Coast. It's the perfect opportunity to see your favorite headliners and check out aspiring new musicians in intimate venues. Check out the festival schedule before heading out as events are dispersed.
Coastal Half Marathon, 5K, and 1-Mile Run – November
The Coastal Half Marathon, 5K, and 1-Mile Run offer the perfect occasion to stay active while enjoying seasonal festivities. There's no need to worry about packing on the pounds, particularly if opting for the half marathon at this Orange Beach event, a nice mix of peaceful paved trails, traffic-free roads, and even a stretch along the Gulf-front highway. A postrace party follows with a buffet, beer for those of age, and prizes, making it an excellent time for the whole family!
Events at the Wharf – November through December
More than just a fun place to hang out, beyond shopping and dining, The Wharf offers family-friendly attractions all year. Things take a delightful turn over the holidays with festive events destined to bring a little magic to your holiday season! From photos with Santa, Black Friday shopping deals, and an ice skating rink, there's something for everyone. Swing by for Holley Days on Main, a two-day festival with arts and craft vendors, a lighted boat parade, music, and more and get in some last-minute shopping on Christmas Eve!
Events at Flora-Bama – November through January
Renowned as one of the most popular beach bars in the world, events at Flora-Bama are memorable. Fun happenings occur all year, but we particularly love their fall and winter events, starting with the Halloween contest on Hallow's Eve. Be sure to come back for the Thanksgiving and Christmas potluck dinners, always a big hit with locals and visitors alike. You bring the side dish, they'll provide the turkey and ham, and the whole family will have a great time!
We'd be remiss if we didn't mention the Flora-Bama Santa Drop, something you have to see to believe, the New Year's Eve Bash for those over 21, and the Polar Bear Dip, a fun way to bring in the new year. Check out their event calendar for all the details and other popular activities throughout the year!
Orange Beach Seafood Festival & Car Show – February
You don't have to love cars to have a good time at the Orange Beach Seafood Festival & Car Show, but if you are, you're in for a treat. Antiques, classics, and hot rods will be on display during this one-day festival, a fundraising event for Orange Beach schools. With music on two stages and nearly 100 artists showing their wares, it's a great time for all ages. Bring the kids, try some etouffee, crab cakes, or a PoBoy, and celebrate Southern style!
Greater Mobile Area Mardis Gras Parades – February
As the birthplace of Mardis Gras in America, we can't think of a better place to join the Carnival celebration than the Mobile Mardis Gras parades! Beginning in late January, you can catch fabulous parades in various locations throughout the city of Mobile. Don a costume (or a mask at the very least), and join in the fun before it ends on Fat Tuesday. If you miss the parades, hit the Mobile Carnival Museum to see artifacts from mystical organizations and recap past events!
If you miss us this fall and winter, plan a trip when the seasons change in the spring or summer. Any time is right for a trip to the Alabama Gulf Coast!
Vacation Email Sign Up
---
Related Topics
electric vehicle charging stations Gulf Shores Orange Beach Property Management United Way