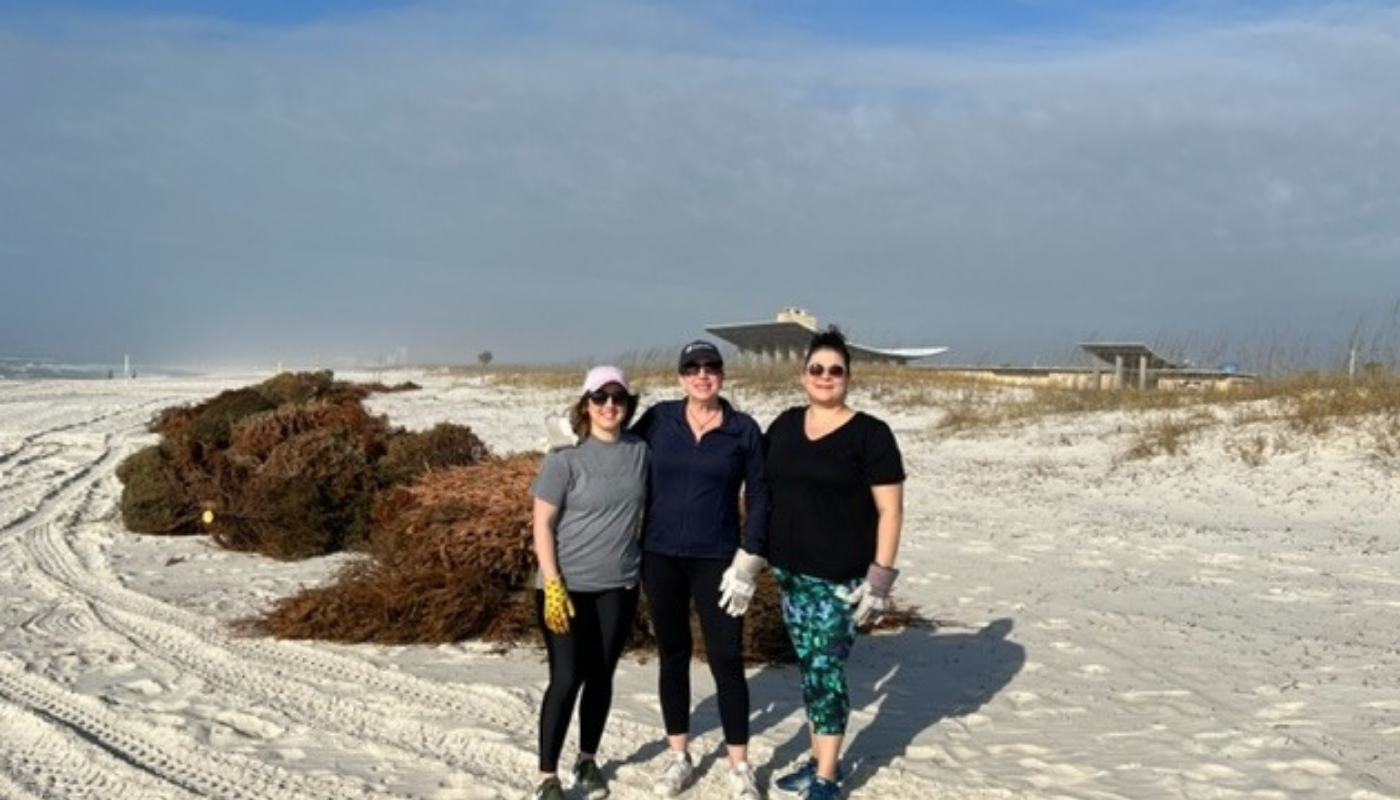 Kaiser Vacation Rentals Takes to the Dunes
March 18, 2022
What better way to give back to the community than with a hands-on approach? This February, the team at Kaiser Vacation Rentals did just that by participating in the dune restoration program at Gulf State Park-Alabama.
Learn More about Gulf State Park – Alabama
For nearly 40 years, Gulf State Park-Alabama has spearheaded efforts to help restore dunes along Alabama's Coast. Offering protection from storms and hurricanes that sometimes occur in the area, the dunes also serve as a natural habitat for an array of plant and animal species vital to this delicate ecosystem.
Managed by the Alabama Department of Conservation and Natural Resources, Gulf State Park-Alabama is a public recreation area in Gulf Shores encompassing 6,500 acres. In addition to beaches, visitors delight in an expanse of nature, including pine forests, streams, and three spring-fed, fresh-water lakes: Shelby Lake, Middle Lake, and Little Lake. The park also features 28 miles of trails and one of the largest piers on the Gulf.
Sustaining Dune Habitat with Christmas Cheer
Kaiser Vacation Rentals joined alongside other community partners, including Dune Doctors, Gulf Shores City Schools, Clean Horizons, and a host of volunteers in this event geared towards sustaining native dune habitat and restoring sand to areas affected by beach erosion.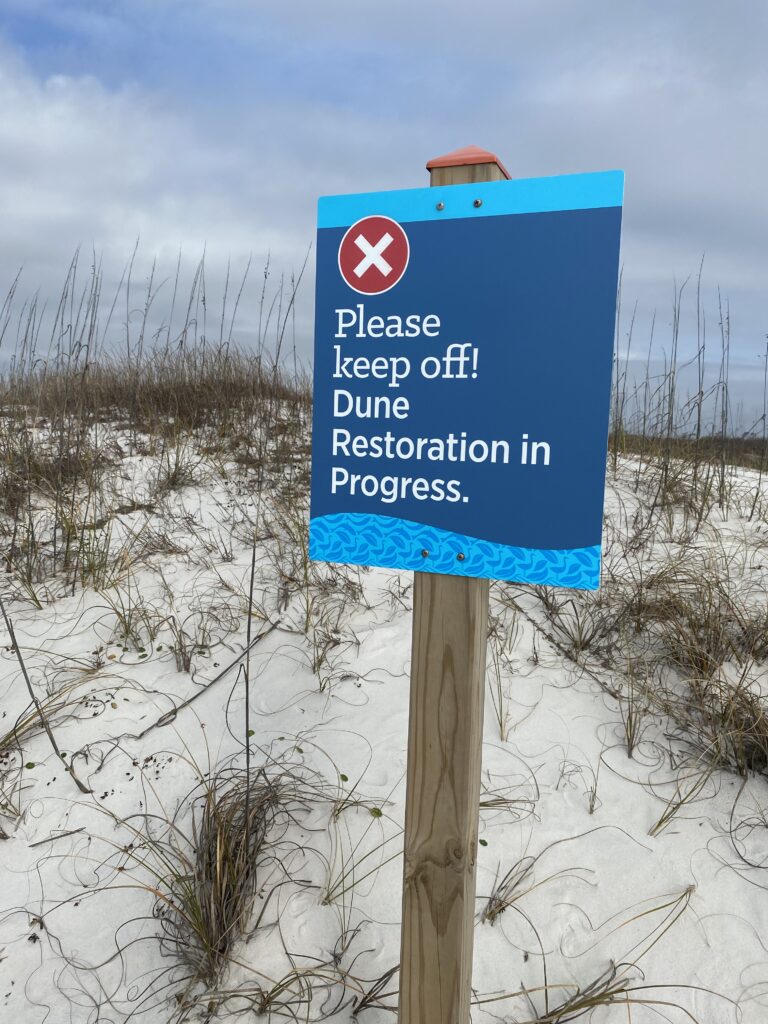 "We are passionate about our beautiful beach and were excited to be able to contribute to its protection," said Marcy Kichler, Chief Operating Officer and Partner, Kaiser Vacation Rentals.
Gathering annually, community partners transport hundreds of donated Christmas trees from the Gulf State Park Beach Pavillion to the sandy shores along the Gulf of Mexico. Volunteers arrange the trees in front of the existing dune line along the Gulf State Park beach, taking extra care to remove tinsel and other non-natural materials. Clusters of three trees are then burrowed into the sand in the shape of a horseshoe facing the prevailing southeast winds. Additional sand on top of each cluster and sea oats planted around the exterior help stabilize the dunes and provide essential habitat for many wildlife species.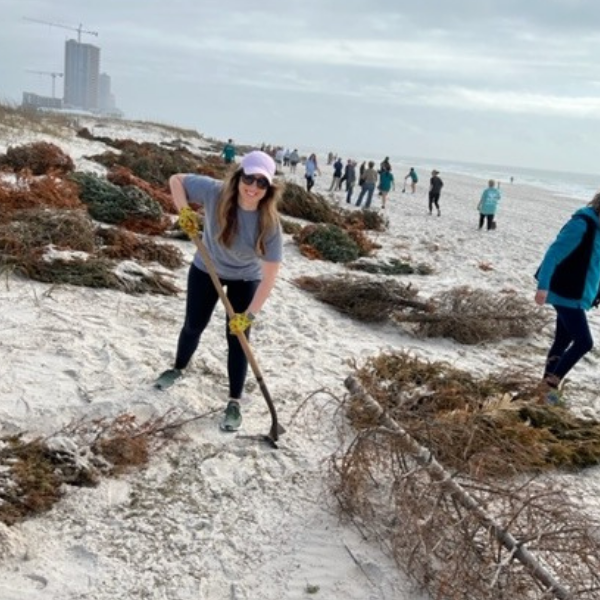 "The formations will serve as a protective measure for the dunes," says Tabitha Williams, Director of Business Development and Property Management, Kaiser Vacation Rentals. Nature will take its course and cover them over time, promoting new dune growth and preserving the beaches in the area for generations to come. This line of defense will protect the park from foot traffic, erosion, and additional effects like waves and wind associated with tropical activities.
The program also serves to educate youth in the community, teaching them important lessons about the value of dune restoration. Learning about what plants grow in the environment, the animals that rely on them, and how the dune ecosystem protects the park from storms can help the next generation preserve this critical resource.
Our Family is Committed to Community
Kaiser Vacation Rentals isn't new to community outreach. In addition to the restoration project at Gulf State Park, the team supports other organizations, including the American Heart Association and the United Way. Whether participating in local fundraisers, donating to important causes, or all-out volunteer efforts, the team is passionate about their community and those in it.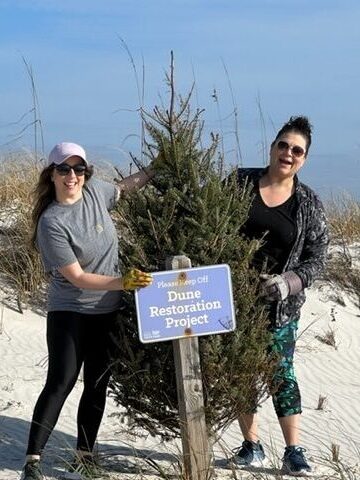 "This is our home; it isn't just where we work or offer our services. We feel it's important to take care of where we live and work for our families and those we invite to visit our area and beaches. The area is beautiful, and we want it to stay that way for generations to come," says Glen Kaiser, Qualifying Broker and Founding Partner, Kaiser Vacation Rentals.
If you'd like to learn more about Alabama's Gulf Coast and how to protect it, Gulf State Park-Alabama offers various educational programs that are both fun and informative. Reference their activities calendar for more information.
---
Related Topics
electric vehicle charging stations Gulf Shores Orange Beach Property Management United Way