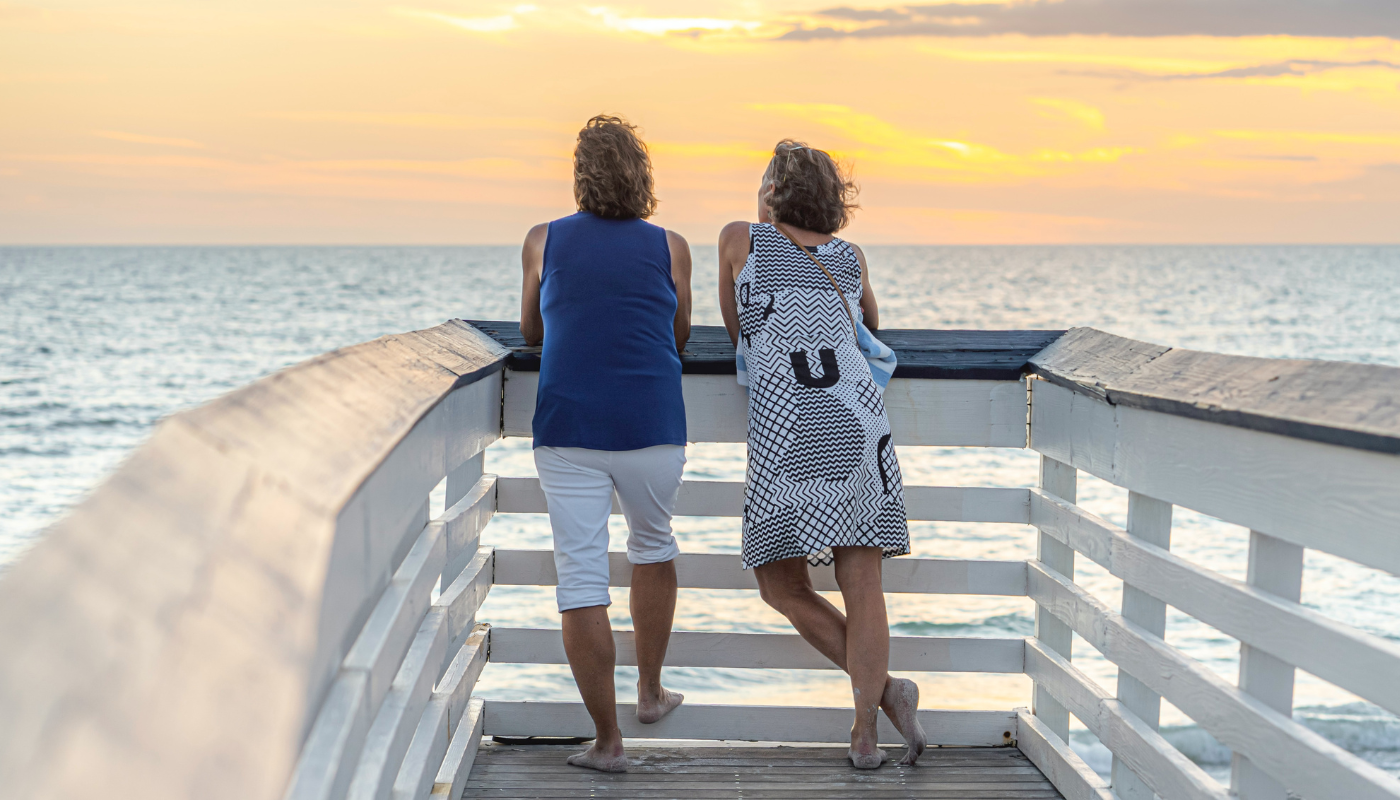 How to Make the Most of Long Summer Days in Gulf Shores and Orange Beach
July 17, 2023
Longer daylight hours during summer mean more time for outdoor fun, and you'll want to drink up every last bit of that Alabama sunshine while here. If you're looking for sun-kissed adventures and creating memories that last long after the sun sets, we have some tips on how the locals do it. It begins with knowing the best places to watch the sunrise, which beaches to hit, and where to get the best seafood and signature cocktails. So get ready to scratch a few items off your bucket list, and let's make this summer in Gulf Shores and Orange Beach one for the books!
Watch the Sunrise
If you want to pack in a full day, you'll want to start early, beginning at sunrise, and you'll find some idyllic spots with stunning sunrise views.
Stroll along the Gulf State Park pier and watch the sunrise over the Gulf of Mexico, a breathtaking scene and the perfect complement to your morning brew. Head to Orange Beach Waterfront Park and stroll along the boardwalk as the sun casts its radiant glow, or witness its grand entrance at Alabama Point East, just east of the Perdido Pass bridge. Delivering more than 6.000 feet of beach with picnic areas throughout, grab breakfast to go, sink your toes in the sand, and take in the view!
Our local waterways offer unobstructed views and glimpses of local marine life. Rent a boat and let the tranquil waters guide you while the sky transforms into a masterpiece. Watch sea pelicans, seagulls, and ospreys in their native habitat while the sea turtles and dolphins below present delightful photo ops to commemorate the beginning of a new day!
Hit the Beach
Alabama beaches are special for several reasons, one being the welcoming locals who take immense pride in their beautiful coastal treasures. This pride translates into well-maintained and pristine beaches that offer visitors a remarkable experience. The friendly locals often engage with beachgoers, providing a sense of community and adding to the area's overall charm.
Making the top three in Alabama's Best Beaches list, Gulf Shores and Orange Beach offer wide open spaces, pristine shorelines, and crystal-clear water. You'll find multiple beach access points, including wheelchair-accessible areas at Gulf Place and Cotton Bayou, making getting to the beach quick and easy.
Gulf State Park provides picnic areas, nature trails, and a fishing pier, the perfect spot for families seeking a wide range of activities during their summer in Gulf Shores. Ample parking, restroom facilities, and easy beach access mean you'll have every reason to get there early and play all day. The Gulf Shores Public Beach is another family-friendly location with well-maintained facilities, including restrooms, showers, and lifeguard stations. Conveniently located near various restaurants, it's an excellent choice for families looking for amenities and entertainment nearby.
Try Local Cuisine
You're in for a seafood treat along the Alabama Gulf Coast, but you'll find many other options to explore during the summer in Gulf Shores and Orange Beach.
With a vibrant atmosphere and waterfront dining, Lulu's is a favorite among locals and visitors alike. Authentic coastal cuisine takes a Southern spin with a scratch-made menu offering peel-and-eat shrimp, crab dip, and gumbo, and that's just for starters. Take your pick from shrimp and Grits, Po' Boys, pulled pork sandwiches, and more, all while enjoying the view, coastal ambiance, and incredible sunsets.
With locations in Gulf Shores and Orange Beach, Tacky Jack's has earned a reputation for delicious food, lively entertainment, and family fun. Gator bites, crawfish tails, and fried pickles are just a few items on a diverse menu with plenty of options for the littles. A great gathering spot for family and friends, The Gulf offers a revolving menu changing with the seasons and features only the freshest local ingredients. Offering a relaxed, casual atmosphere, it's an authentic toes-in-the-sand outdoor dining experience you won't want to miss!
For delicious burgers, sandwiches, and the freshest Gulf Coast seafood, try Fisher's Dockside at Orange Beach Marina. Hit Fisher's Upstairs for an elevated dining experience featuring duck, swordfish, tuna, and some of the tastiest steaks in the area.
Sample a Signature Cocktail
Although Alabama might be known for other signature cocktails, one stands above all the rest.
A Bushwacker is a creamy and indulgent frozen concoction and a must-try when visiting the Alabama Gulf Coast. This delicious drink typically consists of a blend of rum, coffee liqueur, cream of coconut, chocolate syrup, and ice whirled into a delightful adult milkshake best enjoyed slowly. A decadent treat any time of day, it's the perfect way to celebrate summer in Gulf Shores and Orange Beach!
Look for Bushwackers at various bars, restaurants, and beachfront establishments throughout the area, each offering a different spin on this local favorite. The Hangout, the Flora-Bama Lounge, and Bahama Bob's are all popular places serving delicious food to compliment the tasty beverage. From morning til sunset, this Buskwacker guide will point you in the right direction.
Book an Excursion
Although it's always fun to get out and explore on your own during the summer in Orange Beach and Gulf Shores, booking an excursion is a great way to let someone else take the helm. Experienced guides are happy to share local knowledge and little tidbits about the community you may otherwise overlook.
Offering a premier fishing charter service, Reel Surprise is known for its experienced guides, well-equipped boats, and inshore and offshore fishing experiences. Whether you're a beginner or a seasoned angler, their tailored fishing trips offer unforgettable experiences for all ages. Let a local restaurant cook your catch while you relax and enjoy a cold one!
Sailing cruises are a fantastic option for those seeking a unique way to explore the area by water. Immerse yourself in the coast's beauty as you set sail with Orange Beach Sailing Charters offering 2-hour and 4-hour adventure sails, sunset cruises, and all-day sailing charters.
Whether embarking on a dolphin cruise, a helicopter tour, or a guided kayak adventure, there's no limit to the fun experiences you can have this summer in Gulf Shores and Orange Beach!
Vacation Email Sign Up
---
Related Topics
electric vehicle charging stations Gulf Shores Orange Beach Property Management United Way