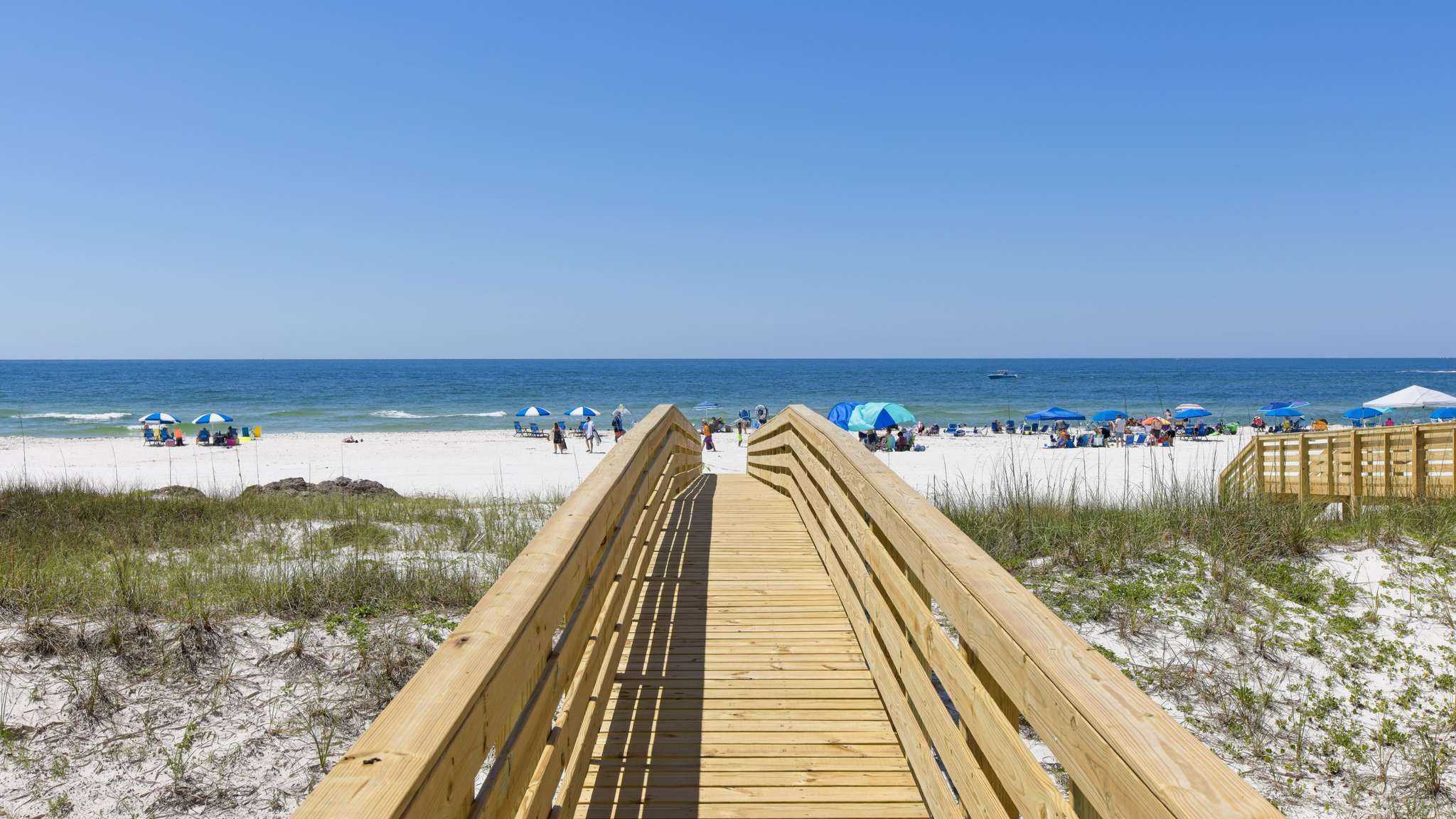 Introducing Ocean Edge: A Luxury Orange Beach Community
May 26, 2023
Welcome to Ocean Edge, a brand-new luxury beach community in Orange Beach, Alabama. The beautiful and highly anticipated Gulf-front development is now open and offering premier accommodations for visitors ready to experience the splendor of the Alabama Gulf Coast.
Featuring two and three-story luxury beach homes with spacious floorplans, stunning interiors, and upscale amenities, Ocean Edge invites guests to experience the ultimate in luxury accommodations. Blending harmoniously with the natural environment and complemented by the stunning backdrop of the Gulf of Mexico, these cottage-style homes beckon for days spent relaxing. Showcasing all the comforts of home, this small, peaceful community offers the ultimate in coastal living. Boasting proximity to restaurants, shopping, and local attractions, many within walking distance, Ocean Edge is an ideal environment and the perfect escape to share with family and friends.
Featured Ocean Edge Amenities
Beyond stunning Gulf views, Ocean Edge offers deluxe community amenities designed to enhance any vacation. Guests can access a community pool with a sun deck, 300 feet of private beaches, a grilling area, and outdoor showers. Beach chairs and umbrella rentals are also available, while smart home systems and EV charging stations are additional conveniences guests can enjoy during their stay.
Newly Constructed Community Pool
With a private, inground community pool completed just in time for summer travelers, Ocean Edge guests can cool off after long days at the beach or simply lounge poolside in this idyllic beachfront community. Whether seeking refuge from a long work week, looking to recharge the mind and body, or simply taking in the sights and sounds of the natural surroundings, the sparkling pool provides a welcome reprieve on warm days and balmy nights. Offering an alternative activity for adults and children, guests will have another place to unwind just steps away from their luxury vacation home. Guests will also appreciate outdoor bathrooms, while outdoor showers offer a quick way to rinse off before heading to the next adventure.
Beach Homes with Gulf Views and Beach Access
Ocean Edge appeals to groups of all sizes, accommodating anywhere from nine to 27 guests. Each luxury beach home is generous in size with flexible floorplans and plenty of natural light, encouraging time spent indoors and out. Featuring 3-bedroom and 3.5-bathroom interior homes with indirect Gulf views, Ocean Edge is truly an exception, given the rarity of small Gulf-side cottages in the community. With adjacent 8-bedroom and 8.5-bathroom exterior Gulf-front homes, guests can choose from gorgeous accommodations bordering the Gulf of Mexico.
Covered porches offer plenty of seating and delightful opportunities for quiet reflection. A newly constructed boardwalk provides direct beach access, making peaceful strolls to the private beach a pleasant experience. Once there, beach chairs and umbrellas welcome guests to stay all day and enjoy unobstructed views of the Gulf of Mexico.
Professionally Designed Interiors
Inviting living areas, beautifully appointed kitchens, luxurious bedrooms, and spa-like bathrooms are hallmarks of custom-designed Ocean Edge homes. Made of superior quality and created with comfort in mind, luxurious finishes complement personalized details designed to elevate any stay. Modern design elements and contemporary furnishings add refined elegance and sophistication to each home. Professionally decorated with beautiful materials, interiors merge rich textures, neutral tones, and natural materials, all designed to encourage relaxation. Marrying indoor and outdoor spaces through thoughtful layout and showcasing stunning views of the surrounding landscape, Ocean Edge offers the quintessential Orange Beach experience.
Generous living areas feature wood and tile flooring, high ceilings, and plentiful large windows, bringing in plenty of natural light. Beautifully appointed kitchens will undoubtedly serve as a focal point, with professional-grade appliances, quartz countertops, and plenty of comfortable seating for each guest. Large bedrooms equipped with cozy bedding and luxurious en suite bathrooms provide the perfect escape after days spent exploring the Alabama Gulf Coast. With high-speed internet, full-sized washers and dryers, and smart home systems offered in each home, guests are assured the best possible experience during their stay.
Homes with EV Charging Stations
Visitors transitioning to cleaner vehicles will no longer need to rely solely on public charging stations during their stay at this beachside retreat. With electric vehicle (EV) charging stations at every property, Ocean Edge offers the option to fuel vehicles while sleeping. An exclusive amenity designed to attract and retain guests, this impressive feature provides ease and convenience, eliminating the concern about where to charge upon arrival and extending travel times while here. EV chargers also significantly impact the environment, reducing pollution along the Alabama Gulf Coast. Guests can awake with a fully charged vehicle, then explore Orange Beach and other nearby communities, including Gulf Shores, Pensacola, and Fair Hope.
Proximity to Places of Interest
In proximity to delightful boutiques, exceptional restaurants, family-friendly attractions, and thriving nightlife, Ocean Edge offers a premier location to everything Orange Beach provides. With nearby parks, watersports, hiking, and biking trails, and countless other recreational pursuits, guests can hit the beach in the morning and pursue other nearby activities whenever they prefer.
Whether interested in a peaceful, relaxing escape or an action-packed vacation that includes the beach, waterfront restaurants, outdoor excursions, and everything in between, Ocean Edge is a perfect choice. A welcome addition to the Orange Beach community, Ocean Edge is ideal for large families, big gatherings, weddings, and travel teams, offering a luxury vacation experience second to none.
Learn More about Ocean Edge
Curating properties throughout Orange Beach, Gulf Shores, and Fort Morgan, Kaiser Vacation Rentals is excited to welcome Ocean Edge to the Orange Beach community. Proudly serving the Alabama Coast for decades, Kaiser Vacation Rentals specializes in personalized service, exceptional hospitality, and premier accommodations.
​​"We are grateful for the opportunity to manage both the homeowners association and vacation rentals in Ocean Edge. So much about this development is special, from being along several hundred feet of direct beach frontage to elegant homes, all featuring electric vehicle chargers," says Glen Kaiser, Owner of Kaiser Vacation Rentals.
Contact us today to learn more about Ocean Edge, how to book your luxury beach home, and what Kaiser Vacation Rentals can do to take your vacation to the next level.
Vacation Email Sign Up
---
Related Topics
electric vehicle charging stations Gulf Shores Orange Beach Property Management United Way