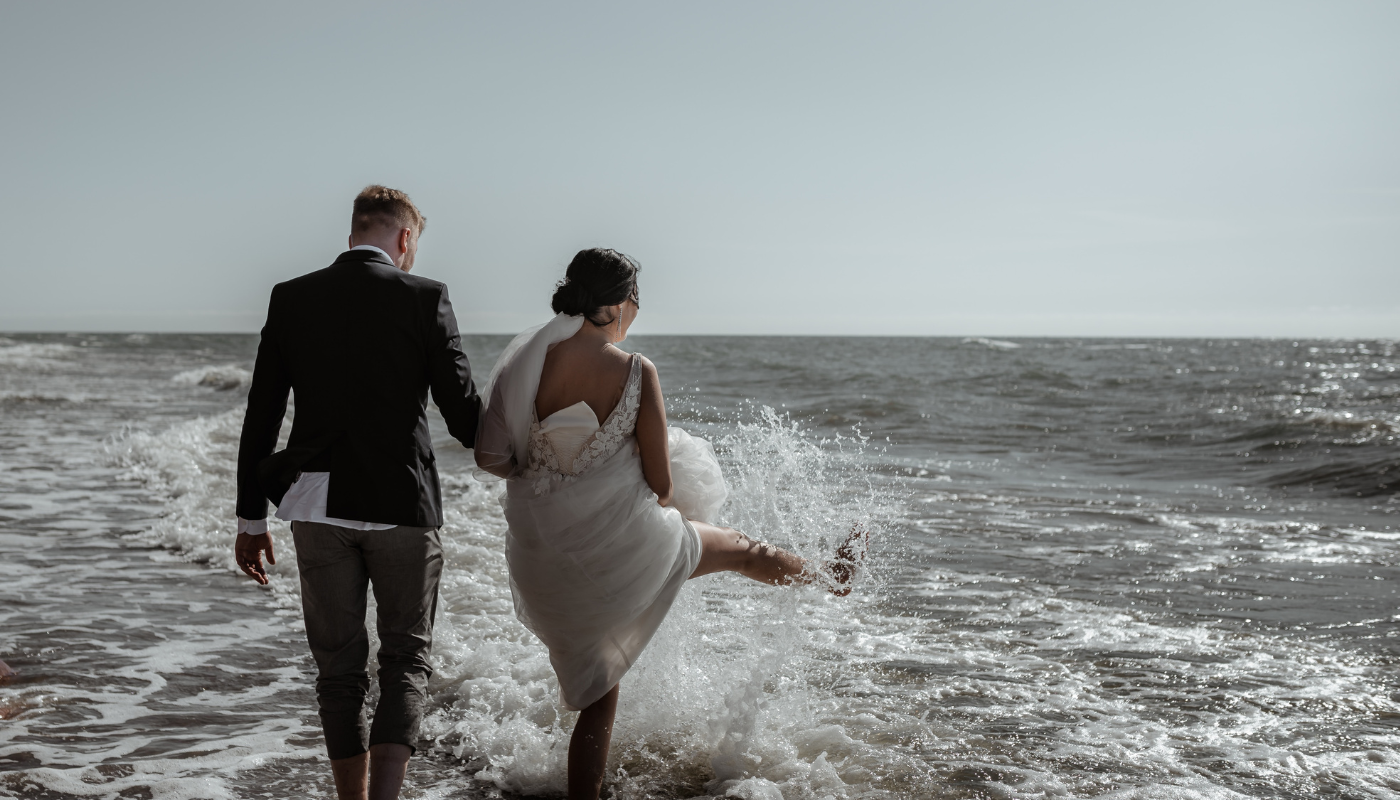 Why You Should Plan Your Wedding on the Alabama Gulf Coast
August 28, 2023
A popular vacation destination, the Alabama Gulf Coast offers stunning beauty and a laid-back, relaxed lifestyle that's hard to resist. With pristine sandy shores, breathtaking sunsets, and gentle ocean breezes, this idyllic location offers a peaceful reprieve from life's hurried pace. Easily accessible, many commuters drive from nearby states, arriving on our beaches in no time and without ever having to board a plane. A prime location for destination weddings, the Alabama Gulf Coast also delivers gorgeous venues, delightful restaurants, and a welcoming community of local vendors ready to make your day unforgettable.
Whether you dream of a barefoot beach ceremony or an elegant waterfront wedding, Gulf Shores and Orange Beach can readily deliver all the goods that will turn your 'where do I begin' into wedded bliss. Planning your wedding on the Alabama Gulf Coast is easy, and with a few tips, you'll be saying 'I do,' tying the knot, and sealing it all with a kiss!
A Variety of Venues
With so much to consider on your big day, delegating some tasks will alleviate stress so you can enjoy the time before your wedding. A local wedding planner will offer guidance, coordinating details like photography, flowers, and more, ensuring everything suits your style and preference, and adding little touches to make your wedding unique.
Next on the list is the venue! Whether envisioning an intimate gathering or a grand celebration, Gulf Shores and Orange Beach offer quaint churches, waterfront parks, and more, and the beach is an ideal backdrop for any festive occasion, no matter the season!
Book a small celebration at sea with Sail Wild Hearts for a two-hour sail with family and friends. Take it up a notch with the Champagne Toast Package and double the friends and the fun. They provide the cake, champagne or sparkling cider, and flowers, carefully curating every detail to create a blissful, stress-free day on the open water. If you're more comfortable on land, try Gulf State Park, offering several pristine locations, including a lakeside venue, a beach pavilion, or an outdoor arena, for the wedding of your dreams.
If you need a larger venue where guests can sit and comfortably mingle, Heron Pointe, overlooking the Intracoastal Waterway, offers distinguished event space for up to 400 attendees. You can pick up some great gifts for the bridal party at The Wharf, and the stunning grounds provide excellent photo ops and the ideal setting for a truly romantic affair. The Coastal Arts Center of Orange Beach is another option, featuring an expansive main hall, a catering kitchen, and separate dressing areas for the bride and groom.
Excellent Restaurants
Whether looking for a place to celebrate with the bridal party or somewhere to host your reception, the Alabama Gulf Coast offers event-worthy restaurants serving delicious cuisine with plenty of space to accommodate your wedding party.
Enjoy the beautiful weather and a good meal at The Gulf, featuring elegant rustic cuisine in a waterfront setting. Everyone will appreciate the ambiance, and it's the ideal spot for a big celebration. Cobalt offers a private dining room with water views from every table. Cajun feast, Southern fish fry, and low country boil are just a few of the buffet options, while delicious hot appetizers, mini sandwiches, and a carving station ensure no one goes home hungry.
With three restaurants at Sportsman Marina in Orange Beach, you'll find something to tempt your taste buds, and you can't beat the views. For a casual, open-air, family-friendly environment, try Fisher's Dockside, featuring an array of fresh fish, filet, and ribs. Go elegant and upscale at Fisher's Upstairs, where octopus, swordfish, quail, and duck find their way on a menu nothing short of celebratory, and Playa is a lovely mix of both.
Gorgeous Weather Year Round
Although summer and fall are popular wedding seasons, anytime on the Alabama Gulf Coast presents mild conditions and beautiful blue skies. If planning an outdoor wedding, having a contingency plan with an alternate location is a good idea, or consider selecting a venue with an indoor option. Even if you end up not using the space, it offers peace of mind and additional space to use for a portion of your event.
If interested in an afternoon beach ceremony, a tent will minimize heat and wind, or opt for a sunset wedding, offering relief from warmer summer days. Either way, the climate is perfect for enjoying fun outdoor activities leading to the big day!
Fun Activities Nearby
Guests may travel long hours for your wedding, so planning a few activities to show appreciation is a nice gesture. Accommodating different ages and preferences can prove challenging, but rallying disparate groups is easy when you have so much to choose from. Immersing them in the local culture is a great start, and that begins with showcasing the destination highlights and nearby places of interest. A casual, fun event will help take your mind off things and is a great way to bring your favorite people together!
Charter a Boat
With dozens of offshore experiences, Zeke's Marina offers all-inclusive private charters the whole wedding party will appreciate. Book an offshore charter for the groomsmen or a sunset cruise for the bridesmaids, and enjoy a carefree day celebrating with your closest friends.
Get on the Water
Kayaking and paddleboarding are fun activities that appeal to all ages, but you'll find plenty of other ways to get on the water. Rent a pontoon boat or jet skis, try parasailing or foil boarding; all are great choices that will give everyone a sunny glow come wedding day.
Plan a Pool Party
Be as low-key or elevated as you like; the important thing is to have fun, and a pool party will do it! Stock up the bar, throw out a few simple appetizers and toss some floats in the pool. Trust us; the rest will take care of itself.
Remember, some of your guests may be staying after you depart for your honeymoon, so offer other fun things to do for entertainment in your absence.
The Perfect Vacation Home
Finding the perfect place to celebrate the days leading up to your nuptials is key. After all, you'll want to share time with family and friends before the event, and everything will go smoother with your group under one roof. You'll need plenty of space and privacy, quick and easy access to the venue, and a place near the beach might be nice too!
Look no further than Vacation Rentals for a wide selection of centrally-located wedding-friendly homes. The bridal party will thank you for the spacious floor plans and large bedrooms and bathrooms, providing plenty of room to prepare for planned activities. Many of our luxury vacation homes offer additional amenities, including private balconies, expansive decks, pools, and other modern luxuries to elevate your stay.
No need to look further – Kaiser Vacation Rentals is ready to help make your wedding on the Alabama Gulf Coast the celebration of your dreams!
Vacation Email Sign Up
---
Related Topics
electric vehicle charging stations Gulf Shores Orange Beach Property Management United Way